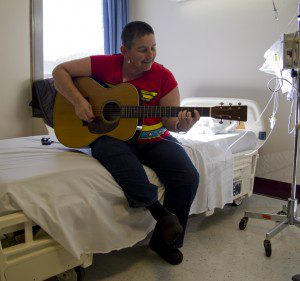 Resplendent in her Wonder Woman t-shirt (complete with cape) and her Wonder Woman necklace, Jean Hanna Davis was celebrating her last chemotherapy session yesterday by playing a few songs on her guitar.
Of course, this was just the last planned chemo session. The chemicals will be doing their job in her body for up to two weeks, continuing to kill the cancer cells that grew in her chest. After that, there will be tests and examinations. And if this series of relatively mild chemotherapy didn't do its job, there will be more treatments.
The last treatment comes with its own share of doubts and worries.
"My gut tells me everything is okay. But I'm not sure I trust my gut. This is the part where it gets scary, when you're done with treatment. You start thinking of all the things that could be wrong. What if this "mild" form of chemo wasn't enough. That's where you just have to trust your doctors, trust they know what they are doing, and have done the most they could do in the best possible manner. This is part where I start getting scared. You're no longer actively treating."
"When you get done with this; that is always the weird thing. You get done with this and you are done. You generally can't get by to see them. You develop such a close relationship with these people, and they become your friends, and then you are done and you don't see them anymore and they move on to their next patients."
Later Jean had the chance to ask two of her oncology nurses about their perspective on their patients and they both said, while they are told not to get attached to their patients, they still do and their patients remain in their prayers for a long time afterward. They often get updates on patients from the doctors.
Jean sang Circle, a song she wrote for her grandmother Geraldine Loyola Hanna as she was dying. "Grandmom" fought breast cancer the year Jean was born and Jean was named for her.
The second song she sang has become something of an anthem for breast cancer survivors. Melissa Etheridge, a breast cancer survivor herself, wrote the song "I Run for Life" about running to raise money, awareness and support for breast cancer research.
She also did a bonus song, just to have fun.
Jean hopes her story, in the form of these blog posts, and a book this spring, will help to inspire, encourage and entertain people dealing with cancer. She wants them to know that they are not alone and cancer is not something you have to let beat you.
Jean gave me access to each of her chemotherapy treatments while she worked to rid her body of cancer for a second time. I wrote a series of six blog posts, five during October for Breast Cancer Awareness Month, about Jean's experience and her thoughts on cancer.
You can see the entire series on the Breast Cancer Page in the non-fiction section of my website..