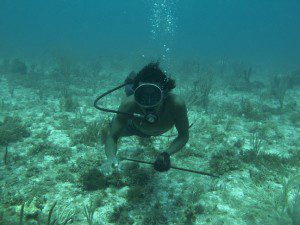 In February of 2010, I began this blog by talking about a trip to Honduras to work with a doctor there as he treated Miskito Indians who dived for lobster on scuba. I ended up visiting Honduras four times as I worked on a documentary project about the situation, including one trip to accompany a news crew from NBC's Rock Center with Brian Williams.
My colleague, Dr. Mathias Nochetto, and I were stunned when we made it La Ceiba, Honduras to see the clinic run by Dr. Elmer Mejia. Dr. Mejia was treating more than a hundred Miskito Indians every year, most had been severely disabled by decompression sickness—"The Bends." They dived between eight and 16 times a day to 100 feet or more for up to 12 days. Their living conditions on board the industrial dive boats were deplorable, living without even basic sanitation for nearly three weeks at a time on board in extremely close quarters.  They harvested the lobster as many as four days boat ride from shore. That meant if they were injured while at sea, they had to wait four days before they could see a doctor.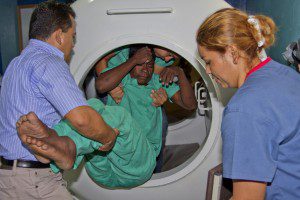 On my second trip, I met with members of the Handicapped Lobster Divers Association. They told me that they had more than 2000 members and knew of another 400 or so divers who had died from diving. To be a member of the organization, they had some level of diving-related paralysis. This is out of an estimated 10,000 Miskito Indians involved in the lobster industry.
Dr. Mejia has had great success treating the divers. In spite of the delay to treatment, a large percentage of the divers leave his facility able to walk again after being carried inside. He has had to fight government obstruction, crime, unsafe working conditions and an overall lack of interest from the community carrying out his work. On that first visit, Dr. Mejia told us that there was a motion to suspend scuba diving for lobster in 2011. It didn't happen. The government decided to continue diving and leave the markets open, in spite of the problems.  That last two year extension was set to end on June 30 of 2013.
National Geographic News Watch just called for Honduras to stop diving, but it didn't happen. They have already decided to continue diving for another two years.
I've had people ask the question why they should care. "It's not as if they have to dive." Nearly all of the lobster hand caught on scuba comes to the United States in the form of lobster tails. That is hundreds of tons of lobster tails per year. We, the people of the United States, have created this market and we need to understand where our food comes from. There is no difference in this than sweat shops in third world countries churning out cheap shirts and jeans. Whenever a there is a fire in a building housing these workers, killing them by the hundreds, we are morally outraged—at least for a brief period. I see lobster advertised nearly daily on the television. It isn't just a luxury food anymore.
I really don't want the lobster industry to go away. There is nothing else for the Miskito Indians to do. I have been to their homes and seen where they live. I simply want us to harvest them in a safer manner. There is no excuse for killing an entire sub-culture of people simply to feed our appetite for cheap lobster. As a diver, I hate to see my chosen sport used to destroy lives. This is something many of us do as a recreation.
Watch the documentary video For Cheap Lobster I prepared two years ago. It follows three diving populations, but focuses on Honduras.
I didn't have anything to do with this project, but some filmmakers created a documentary on the situation from the Nicaraguan side of the Miskito Coast: My Village My Lobster..