Over the last few years, I've had some pretty cool adventures. I've traveled throughout Russia, dived in the Atlantic, Pacific and Indian oceans and throughout the Caribbean Sea, and been on six of the seven continents (still trying to get to Antarctica).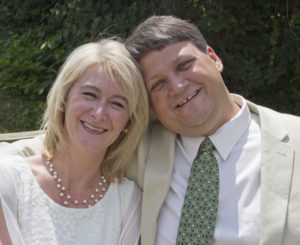 But tomorrow, I start a new adventure a little closer to home. I am marrying Beverly (Blackwell) Jordan and couldn't be more excited about it. She is an intelligent, charming, beautiful woman who has had me totally captivated since we reconnected a little over a year ago. I say reconnected because we knew each other, and even dated briefly, about 25 years ago. We hadn't seen each other in about 18 years until March of 2010 when she came to see the exhibit of my Russian photography project at the West Virginia Culture Center.
We chatted from time to time over the following year, and then last April we began discussing getting together for dinner one evening. It has been non-stop ever since.
This isn't the first marriage for either of us, as evidenced by the fact that we will both have children present and participating in the wedding. But I'm confident it will be the last. For the first six months of our relationship we lived in separate states. That forced us to talk to each other rather than spending all of our time doing things together. We texted, chatted and skyped every day. And we learned a lot about each other. I think that will make all the difference.
This isn't the normal fare for this blog and I hope you will indulge me this opportunity to say something a little more personal. I am getting married tomorrow and I am totally in love. It's funny, though. I am totally in love, but still have a reasonable expectation of what is involved in marriage. It's hard work. It's compromise. It's giving up what you want (from time to time) for the good of the relationship. It is about supporting each other, believing in each other and being there for each other.
So, welcome to my latest adventure. Don't worry, I have no intention of turning this blog into the story of our married life. I'm sure Bev would kill me if I tried that. And frankly, I like to keep my private life as private as I can. But sometimes you just have to shout the good stuff from the top of the tallest building (metaphorically speaking, of course).
In approximately 24 hours, we will be saying "I do." I pray that God will bless this new family and our union.
And then the adventure really begins!