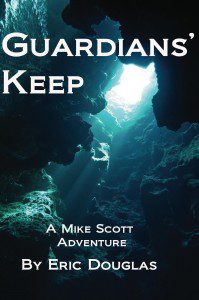 The following is an excerpt from the Mike Scott thriller Guardians' Keep.
###
As Mike exhaled and sank below the water, it took his eyes a moment to adjust to the lower light level and then another second to get a grasp of what he was looking at. A carpet of anemones and sea life covered everything below him. Sea fans and barnacles created a jumble of color—reds, greens, blues, pinks and oranges exploded everywhere around. The layer of moving life gave the surface a fuzzy texture like a fur rug draped over furniture.
Mike realized the shapes on the sea floor that looked like random blobs were actually structures rising up from the sea floor. There were walls and pillars. Tables of stone littered the area. The waving action as the animals and plants drifted with the small waves above, served to erase any sharp edges and blend one item into the next, but he was beginning to sort it out.
Okay, I can make this out, now, Mike thought. That big building must be the main hall. Those over there are probably private quarters for people. It's actually sort of set up like the work site above with two half-circles, and then there was a courtyard in the middle. A few of the buildings look like they may've fallen down, but it looks intact.
Turning to look back across the entire site, things began to make sense to Mike. It had been a jumble of confusion at first. He could tell the site was ring-shaped. The tallest building was on one side, with smaller buildings wrapped around it on each wing. He was sure at least one of the fallen-down buildings beneath him was a chapel. Mike guessed another hump was a fountain or a statue.
After allowing him to swim around for a few minutes, Frankie got Mike's attention and pointed out the direction she wanted him to head. As they swam, they passed two sets of divers working around the site. Both teams were preparing a section for further excavation. Using string, divers had laid out a grid pattern over the entire area. The dive teams were taking measurements and detailed photographs of each square. They would use these images and notes to evaluate likely areas to search later and for comparison purposes after they began excavations.
At the edge of the grid pattern, Mike could see another crew working, actually carrying out excavations. They were using a large underwater suction hose to move sand and debris up to the surface onto a floating platform. When the platform was full, they would swim it in to the beach, where workers on the surface would sift through it to make sure they didn't miss any small items that were potentially important. The propellers of the dive boat up above provided the power for the vacuum, directing the water upward, instead of backward. There were also two smaller rigid, inflatable boats to support the operations. The team had also built an underwater structure, like a set of scaffolds, from which to work and to support the suction hoses.
Frankie and Mike hovered effortlessly in the water just above and to the side of the divers watching as they cleared away the material and began to expose the buildings below. They were in a normal swimming position, almost perfectly parallel to the bottom.
With nothing but the sound of his own breathing, and the droning of the boat engine driving the underwater vacuum, Mike began to imagine what life might have been like in this small community, before the rising sea and slipping hillside caused everything to slide beneath the waves. It was much the same process as he went through mentally when hovering over a shipwreck for the first time.
The sight of metal pipes passing directly in front of his eyes roused him from his daydream. As his brain began to register the danger that he, Frankie and the other divers were in, he felt something heavy strike the back of his legs and begin to pull him down to the sea floor. He began to struggle and attempted to swim from beneath the weight. Just as he started to move forward, he felt his body strike the bottom. Mike was pinned to the sea floor by the scaffold. The collapse of the scaffolding disturbed the sandy bottom.
Mike couldn't see anyone else around him, although he knew there were several other divers in the water nearby. He wasn't about to wait for someone to rescue him. As he twisted and struggled to get free of the burden holding him down, he realized the bulk of the weight was resting squarely on his back. He was pinned to the ocean floor.
Mike knew he was going to need to control his breathing and think for a minute. He knew he had plenty of air because he had been underwater for only about 15 minutes and it was a shallow dive. Still, he needed to calm down, slow his breathing and think.
After reviewing his options, he decided to slip out of his gear to see if he couldn't free himself of the entanglement. A trained cave and wreck diver, Mike had slid out of his gear on more than one occasion underwater to get past a small restriction. He began loosening the straps on his shoulders and around his waist. It took some struggling to get his hands and fingertips around the buckles to where he could release the tension.
After what felt like forever, Mike was able to slide the buoyancy compensation jacket off his shoulders and twist out of his prison. He had to take his regulator out of his mouth for a moment until he got clear of the wreckage. Wiggling free and looking all around, he was able to see what happened. A large section of the underwater structure had collapsed and rained down metal pipes on the area Frankie's team was exploring.
Mike also quickly realized why no one had come to help him. Frankie was trapped and didn't appear to be moving. Mike quickly pulled his gear free of the wreckage and slid it back into place. He swam over to where the other two divers were struggling to get pipes off Frankie. As he arrived, the two men were able to get the last pipe moving.
Small bubbles escaped from Frankie's regulator on regular intervals. Mike guessed she was breathing, but he wasn't going to take any chances. As the two men raised the bar off Frankie's legs, Mike moved into position and began lifting her as gently as he could off the bottom. He quickly moved one hand in front of her and held her regulator in her mouth. With his other hand, Mike reached around in front of her limp body and released her weight belt so he wouldn't have to struggle to get her to the surface. He immediately began to swim with her, knowing he needed to get her to air and additional help. Mike's mind was racing as he swam upward with Frankie's still shape in his arms. It was only 30 feet to the surface, but the adrenaline racing through his bloodstream made it feel like he was moving in slow motion.
Breaking the surface, Mike began signaling for help with his free arm and yelling at the top of his lungs.
"We're over here! I need help now! Help! Help!" he called out. Two crew members were circling in one of the smaller boats. They knew there had been an accident below and were waiting for the divers to surface so they could pull them onboard. Both of them immediately dived into the water and swam over to where Mike and Frankie bobbed on the surface.
###
Get your copy of Guardians' Keep today, in softcover or Kindle. It is also part of the Mike Scott Boxed Set that includes the first five novels and two short stories.