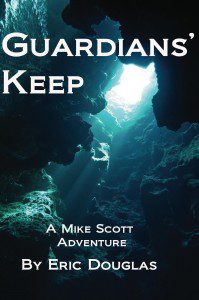 The following is the second excerpt from the third Mike Scott thriller Guardians' Keep.
###
"Who are you people, and what do you think you are doing?" Frankie asked, getting angrier by the minute. "You have no right to do this."
"We are the Watchers. We take care of this place. We encouraged you and your men to leave, but you didn't listen. Now, you have forced us to take additional steps. You should have left when you had the chance," the voice said. "As soon as the others arrive, they will decide what to do with you."
The voice was deep and menacing, but Mike decided to call the man's bluff. "You're waiting on your leaders to arrive," he began. "So, you guys aren't even important enough to make any decisions. How about we just wait for your boss to get here and we'll talk to him?" He was hoping to anger their captors; emotion could mean mistakes. Also, he didn't want them to feel like they were completely in control. He wanted to trip them up—before their bosses did arrive.
"Please be quiet, Mr. Scott. You aren't supposed to be here, either," the voice said through clinched teeth, a tinge of frustration evident. He hadn't expected a challenge from his captives. The men finished binding Mike's hands behind his back. Frankie was already bound and lying on the ground at his feet.
"Oh, come on. You guys are just a bunch of lackeys," Mike said. "Get your bosses here, and let's get on with this. I don't even want to talk to you." He knew he was not in control of this situation, but he still thought he could push a few buttons. He was correct, as he found out very quickly. One of the men shoved Mike to the ground roughly. He nearly landed on top of Frankie.
"Sorry," Mike whispered. As he rolled over, he could see better without the lights shining directly in his eyes. He counted five men. There were the four men who had tied them up, while the fifth stood off to the side. He was clearly the leader of the group, but not really in charge as he was waiting for his superiors. Mike realized that maybe he had a chance to do something.
"You two, be quiet. I don't want to hear another word out of you," the voice said.
As he said that, they all heard a crashing sound, a bottle breaking against metal from the far side of the dive site. The sound came from an area where Frankie's men stored their equipment. Everyone turned at the noise to see what was going on, and the men shone their lights in the area.
"Mike. Mike, listen to me," Frankie whispered to Mike as they lay side by side on the sand, their captors momentarily distracted.
"What is it?" Mike whispered back as the men looked around to see what had caused the noise.
"I have a dive knife attached to my leg. Can you get to it?" Frankie asked. The kidnappers hadn't bothered to search the divers. They didn't know what the dive equipment was for, so they hadn't even tried. In the darkness, they completely missed the small knife strapped to the inside of Frankie's calf.
"Hold on. Yeah, I can reach it," Mike said as he twisted around and got the knife behind his back. He immediately began to saw at the ropes binding his hands with the tool's serrated edge. He was able to make quick work of the rope. When he was done, he kept his arms behind his back.
The men were arguing among themselves about what to do when the voice in charge cut through the chaff. "You two, go see what's out there. Probably just a cat, but I want to be sure," the voice said and quickly two men disappeared into the darkness. "With the leader coming, I don't want any surprises."
"So what are you going to do with us?" Mike asked, trying to distract the man. Mike hoped he would get closer so he could surprise him. Mike felt he had the edge since the other man didn't know he was loose. On the other hand, Mike hadn't been able to free his feet. He hadn't had time. The other man would have to be very close for Mike to do anything, and even then it would be tough since the man wasn't alone.
"You have meddled where you didn't belong. The Watchers have protected this site for hundreds of years. We have always watched. We have never let anyone close to the treasures we have guarded here and we never will," the voice said. "You will not get another chance."
While the man spoke, Mike could tell he kept looking around. The first two men he sent away had not returned yet, and he seemed to be getting nervous.
"You two, go find the others. They should be back by now. Be quiet, but get them back here quickly," the voice directed the remaining two captors. There was a hint of agitation in his voice. His frustration was growing, as nothing was going as he had planned. The two men left quickly to go find the first men.
"What is going on here? Where are the leaders?" The man began nervously pacing and talking to himself. "If they don't get here soon, I will finish this myself. If I let this go on any longer, we might be discovered, and that would be a disaster for everything we have worked for and planned." He stopped. "And if I handle this situation, the inner circle will see that I have what it takes to lead this organization. They will see."
The man stopped to stare off into the distance where he saw all four of his men go. "All right. I've decided. When the men get back, we'll just do this. We can knock these two unconscious and throw them back in the water with their equipment on. They will drown, and it will appear they died diving," the man said, thinking aloud.
The man was still pacing, but his nervous walking and talking caused him to lose his focus. He wasn't paying attention to Mike and Frankie, or where he was. He wasn't in control of the situation. None of his men had come back and suddenly he was alone.
Mike continued to watch. He didn't know where the other men were, either, but he wasn't going to wait. This might be his only opportunity, considering the conclusion the man had just come to. The next time the leader walked close, Mike was going to take him down.
And the moment came. Mike half-rose on his bound feet and lunged forward, wrapping his arms around the kidnapper as he heard a loud noise to one side. The man reacted to the noise, but the last thing the kidnapper saw before he hit the ground was the sight of two men that he didn't recognize running straight at him.
Mike hit the man in the back of his legs and took him straight to the ground. He had sensed rather than seen the other two men running at him as he lunged, so he continued rolling to the side. He hit the ground and immediately began sawing at the ropes on his feet with the dive knife in case he needed to defend himself from the other attackers.
###
Get your copy of Guardians' Keep today, in softcover or Kindle. It is also part of the Mike Scott Boxed Set that includes the first five novels and two short stories.