The following is an excerpt from the Mike Scott thriller Heart of the Maya.  
###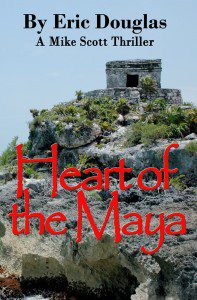 "How do you want to handle this?" Rich asked.
"Let's take it easy. I only have a couple of goals for this dive. I want to take a look at that tablet Erick found. We'll clean it off and photograph it. And then I want to see if we can figure out where those old drag marks came from and see if we can tell what came out of there. Lastly, I want to make it back to the surface alive," Mike said, without humor.
"Roger that. I'll be your wingman on this one. You just direct me where you want to go," Rich agreed.
"I really don't expect to be underwater too long, probably 15 or 20 minutes at the most. And we have a maximum of 100 feet, right?"
"That's right. We've each got a little more than 100 feet of air hose. I could get more if you want, though," Rich said.
"No, let's keep it simple. If the cave system goes on further than that, we'll leave that up to the professional cave explorers. We'd need a lot more equipment and support if we were going to do that," Mike said.
After a quick safety check of their equipment, Mike and Rich zipped up their DUI drysuits to protect them from the cool, spring-fed cave water and donned their facemasks. They confirmed they could hear each other and that Sophia could hear them as well. The moved to the far side of the pool of water and did their best to enter the water as gently as they could. They didn't want to stir up the sediment. There was no water flow and they had no way of knowing how long it would take the water to clear again if they stirred up a silt cloud. As soon as both men were floating on the surface of the water they agreed to submerge. Mike was carrying Rich's camera in the underwater housing and both men were carrying dive lights and backups as well.
The communications gear they were using made both divers sound as if they were talking inside of a tin can and they had to listen to each other inhale and exhale, but at least they could hear each other.
"This water looks great, Rich. It's like the freshwater springs in Florida," Mike said. "A bit colder, though."
"You're right about that. It's like swimming in air. One difference. Remember, there's no current. Keep your fins up off the bottom," Rich said.
"No doubt about that. Okay, come around me and let's look at the tablet first. I want to get a couple photographs of you cleaning it off and then I'll take some close ups of it."
Rich was much more comfortable diving in close, confined spaces like this and accomplishing a task. He did it every day. He easily moved around behind Mike and approached the outline of the submerged tablet where it rested just a few feet below the water. Mike marveled at the man's ability to glide through the water, barely appearing to move a muscle. Using a gloved hand, Rich pushed the accumulated silt off of the flat rock, being as careful as he could. He traced the outline of the mostly-square rock and then spent a little more time cleaning sediment out of the grooves carved into the stone.
"Mike I see a problem already. I can tell that this has been carved, but it looks like someone hit it with a hammer a few times. Some of the symbols are messed up."
"Can you tell if the damage is ancient, or it's been done more recently?"
"Just a guess, but I would say more recently. The grooves from the original carvings are pretty smooth, like they've been underwater for a long, long time. But when I run my fingers across where it looks like it was hit, the edges are a lot sharper."
"Someone tried to destroy it, or at least hide what it said. That tells me something is going on here."
"I wish I could see what you guys are seeing," Sophia said, startling both divers.
"Hey there kid. How're you doing up there? I almost forgot about you," Mike said.
"I'm fine. It's a little creepy up here all by myself, but I'm okay."
"Hang tight. We won't be too much longer," Mike said. "Rich, if you have it cleaned off, let me move in there and get some close ups. We might be able to tell something from the symbols that are left undamaged."
Rich backed away from the stone tablet and Mike moved in, photographing as he went. When he got close enough, he filled the camera frame with the tablet and took a few more images. Then he moved in even closer, thankful that the camera had a built-in close up feature, and took photographs of individual carvings as well.
"Now what?" Rich asked when Mike appeared to be finished.
"Let's follow the path of the drag marks."
"Roger that."
Just a few feet away, both men could easily see where two parallel mounds led down deeper into the submerged cave with an unnaturally flat spot between them.
"Put your hand in the middle of the mounds. I want to get some scale," Mike directed his old friend.
"Got it. Looks like it was about a foot wide," Rich said. "And pretty heavy, too."
"I agree. Whoever did it probably wrapped a rope around it and just pulled it up to the surface," Mike said.
Rich was slightly ahead of Mike as they followed their lights deeper into the cave when he suddenly stopped.
"What is it?"
"I found the end of the road," Rich said. "The trail stops here."
"Okay. Let me come around you," Mike said.
"That's good because you're almost out of hose up here," Sophia said.
"Roger that. We're only about 25 feet underwater, but we've moved horizontally back inside the cave," Rich said.
The two men hovered just above the bottom, barely breathing as they stared at the end of the line. They could clearly see where something used to sit, but it was long gone now.
"There is sediment built up on three sides. Whatever it was sat here for a long time," Mike said. "Maybe a statue or a carving of some sort."
"Someone discovered it and decided they wanted it for themselves," Rich agreed.
"I'm betting that tablet at the surface was some clue it was back here. Whoever took it didn't want anyone else to know what was down here. They couldn't pull it out so they tried to destroy it," Mike said.
"You think Erick was on to it? And someone decided they wanted it more than they wanted him to find it?" Rich asked.
"Sounds like a pretty reasonable explanation to me."
"But who?"
"If we knew the answer to that, we'd probably know who killed Erick in the first place," Mike said.
"No doubt in my mind that Erick was killed now," Rich said.
"Mine either," Mike said. "Let me get a few more photographs and then let's get out of here."
Mike covered the entire scene, thinking like a crime scene photographer instead of a photojournalist at the moment. He did his best to capture minute details and anything out of the ordinary, rather than worrying about telling a complete story with the photographs.
"All right. That'll do it. Sophia, we're coming up. Pull on the air hoses so they don't get tangled."
Both men were quiet for a moment, expecting the young girl to answer them, but they were met with silence.
"Sophia, are you there?"
Still nothing.
"Do you think she got scared and went outside?" Rich asked.
"I doubt it, Rich. She would want to be there when we got out. Let's get to the surface."
"I've got some more bad news for you," Rich said. "We're running out of air."
"How could that be? We haven't been down here that long," Mike said.
"It's getting harder to inhale. We've still got some air left in the hose, but there isn't as much pressure behind it. Let's get out of here," Rich said, his voice eerily calm in the face of an emergency.
###
Get your copy of Heart of the Maya today, in softcover or Kindle. It is also part of the Mike Scott Boxed Set that includes the first five novels and two short stories.