For Jean Hanna Davis, cancer is something going on in her body, but it isn't who she is. She refuses to let it define her or slow her down; even on the days when she should probably ease up a bit.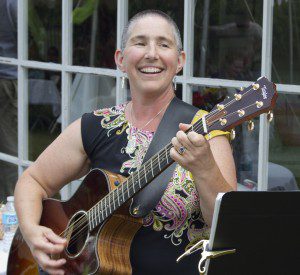 Cancer is becoming more and more common. You have to take chemo and that is making you sick. When the cancer is over, it is over. It is not going to stay with me forever. Even if I get nine good years and one down year with it, those are still pretty good odds. They said my hair will thin, but probably won't fall out this time. It doesn't bother me to be shorn though. That power is in taking control of your situation. For me it has always been the positive spin on it.
I really want people to know that cancer is not, in many cases, a death sentence. Even the chemo as you're going through it, it's not fun, but I've always said my chemo days are my spa days. They take care of me. That's been the hardest part for me; letting other people take care of me.
My negative things are very much attached to a specific thing. They aren't attached to the cancer. It has been with me at least 10 years that we know of. Cancer is just cells that are moving too fast. Ultimately, your body has a weird growth in it. I'm not sick, I just have cancer.
I took the approach of, the cancer is back, and it is just in my bone. It is not in my liver, my kidneys; it is just in the bone. Yes, cancer is bad, but mine is not bad. Here are some of the things you are going to have to do (talking to her family). I was pretty business-like about it. The kids have been very good. It has gotten harder. The more of these treatments I do, the harder it becomes because I'm tired all the time. Well, today is mommy's chemo day. They know this already. My kids have to deal with it. Juliana will poke her head in and say Mommy are you OK? She will bring me a glass of ice water and say I hope you are feeling OK.
Juliana is mad because my hair isn't falling out. Every so often she walks by and grabs my hair. She is mad because she wants to shave her head. We are doing a fundraiser in October and we will shave our heads for that in support of Breast Cancer Awareness Month. (Rather than a full shave, they both cut their hair down to about one inch.)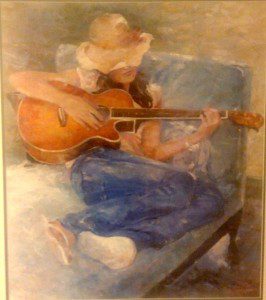 In the early days, when I used to go listen to Jean play guitar in the bars around Charleston, I probably annoyed her by frequently requesting one song: Girls With Guitars. The song tells the story of a young woman who learns to play guitar and discovers her calling in life. She wants to entertain and make people dance, smile and have fun. The song was written by Mary Chapin Carpenter, but the most popular version of the song is performed by Wynona. In my mind, though, that girl is Jean.
So, it was appropriate that, on the wall outside the outpatient hospital room she was assigned to, for her first round of chemotherapy, was a painting of a girl holding a guitar.
The chemo shouldn't create neuropathy in my hands this time so there shouldn't be any issues with playing my guitar. I haven't played much in the last month, but that is because of the scars from the mastectomy.
This weekend, October 19, Jean is playing a breast cancer benefit in Princeton, West Virginia called the: 2nd Annual Ta-Ta Extroidinah. All proceeds benefit the Susan G. Komen Foundation. Tickets are $20 at the door.
A friend said he was going to ask me to play, but he wasn't sure if he should when he heard about my diagnosis. I said sure. I want to play it.
After all, she isn't sick, she just has cancer. And she plans to fight it all the way.
This is the third of a series of blogs for Breast Cancer Awareness Month. Jean Hanna Davis has given me access to each of her chemotherapy treatments while she works to rid her body of cancer for a second time.
Family will be the topic for the next post. The final post topic in the series will be:
Previous posts are:
You can see the entire series on the Breast Cancer Page in the non-fiction section of my website.
This series is dedicated to Jean and her family, along with all the women who have fought breast cancer—patients and families alike. Follow this link to find out more about Breast Cancer Awareness Month. It is a clearing house of information with links and connections to many of the major players in the fight against breast cancer..