Note: The interviews and the columns in this series became the basis for a book: Keep on, Keepin' on. It was published last spring and is available through Amazon.
Jean Hanna Davis is going through chemotherapy for breast cancer for the second time in 10 years. Her first time, she was pregnant with her youngest daughter Juliana. For someone from a close-knit family, the risk to her un-born child was terrible to face, but Jean and her husband Joe faced it together.
So, we researched and went into my first meeting with Dr. Chambers. We said, we know we are pregnant and I am a teacher of children with moderate to severe special needs. We know that anything can go wrong with any pregnancy, but we are not going to terminate this pregnancy. The doctor was relieved because she didn't have to say those words.
This time I don't have a baby. My baby is taking care of me. That is a blessing and some sadness. I hate it that she has to go through this. Hanna was four and she has some memories, but I'm not sure whether she remembers them or they are implanted memories. Hanna didn't know what death was, but she knows now. You can't really reassure them. You can make plans, but those plans spin on a dime.
Music runs through the Davis family. Jean and her daughters play and sing.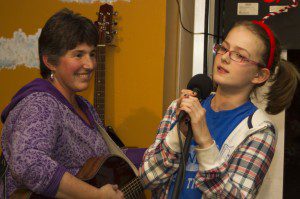 Hanna sings "I Run for Life" (by Melissa Etheridge). She won't let me sing it anymore; she wants to sing it. At her talent show at the end of the school year, a month after I was diagnosed, she wanted to sing it. She got on that stage and said, 'This is a song about breast cancer. I'm gonna sing it for my mommy and for all the other people fighting breast cancer.' She sings it in a different key than I do and that was good because I had to pay attention. (Jean was playing guitar to accompany her.) She did so well, she nailed it. I worry about her; she does that kind of stuff. She doesn't want to talk about it, but she wanted to come to chemo today. I don't think she understands that I am attached to this thing for hours.
It's been years since they told her about it
The darkness her body possessed
And the scars are still there in the mirror
Everyday that she gets herself dressed
Though the pain is miles and miles behind her
And the fear is now a docile beast
If you ask her why she is still running
She'll tell you it makes her complete
[Chorus:]
I run for hope
I run to feel
I run for the truth
For all that is real
I run for your mother your sister your wife
I run for you and me my friend I run for life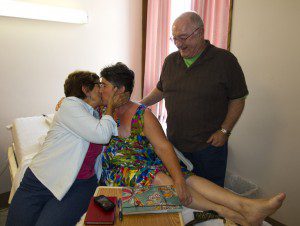 Jean knows that it isn't just her going through cancer treatment and dealing with the side effects. It is her family, too. They are all there to support her, but they have their own struggles, too.
Last time when we did this, Dad came down for a chemo, and he said, the hardest thing about this is I can't take this away from you.
 John Hanna: It's overwhelming. Especially since the male has the tendency to fix everything and when you can't fix something, it is a total level of frustration.
Arlene Hanna: It is hard for me to know that it has come back. There is anger. Why can't it be me? Why can't I bring that to me? When I see her strength, I think "She is my role model." And I see other people who are impacted by her. We're going to keep her.
Joe Davis, Jean's husband: This time it's…it's more real. The first time it was kind of surreal. I wasn't as concerned, I wasn't as worried about it the first time. The first time it didn't upset me that much. I knew it was going to be okay. I never once thought she wouldn't survive and that Juliana wouldn't survive. Maybe it was because there was more to deal with than just cancer. I didn't cry the first time. I knew it was going to be OK.
Hanna: This time I understand what's going on and what can happen. Last time I didn't really understand…didn't really know. It freaks me out a little more. Something could go wrong. My friends try to tell me they understand, but they really don't. My friend's grandmother has been going through this for four years and we talk about it.
 Juliana: I see a great a mom who does everything for me. It makes me not worry because I know she is strong and can fight it. That she can make it through all of this; through all the medicine. I understand she needs to lie in bed sometimes. I'm not worried.
This is the fourth in the series of blogs for Breast Cancer Awareness Month. Jean Hanna Davis has given me access to each of her chemotherapy treatments while she works to rid her body of cancer for a second time.
Faith will be the topic for the next post, the final one in the series.
Previous posts are:
You can see the entire series on the Breast Cancer Page in the non-fiction section of my website.
This series is dedicated to Jean and her family, along with all the women who have fought breast cancer—patients and families alike. Follow this link to find out more about Breast Cancer Awareness Month. It is a clearing house of information with links and connections to many of the major players in the fight against breast cancer..