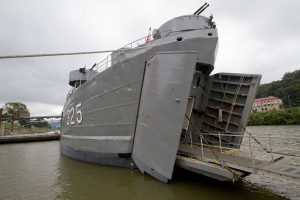 The LST 325 is a living war memorial that spends most of the year in Evansville, Indiana but cruises inland waterways during the summer giving people a chance to explore and gain a tiny grasp on what World War II was all about, including the sacrifices that everyone made in the effort.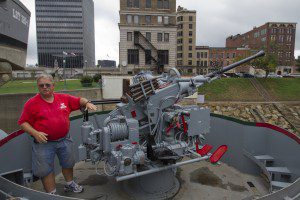 There were 1051 LSTs built for the war effort. The ship itself is 230 feet long and 30 feet wide. It was designed to hold 20 Sherman tanks or 16 Marine LVTs weighing 30 tons each. It could then beach itself and offload that equipment in the middle of the war. Halfway jokingly referred to as a Large Slow Target, the military believed that if these ships completed their mission through one battle, they had met their goal. LST 325 served in North Africa, Sicily, Salerno, and finally landed troops on Normandy Beach on June 6, 1994—D Day. Her service didn't end there, though. She served in Korea and Vietnam, before being given to the Greek Navy for their use from 1964 through 1999. In 2001, a group of volunteers banded together and fixed her up enough that she could sail and then brought her home to the United States. Since then, they have continued restoring LST 325 and making her a living memorial.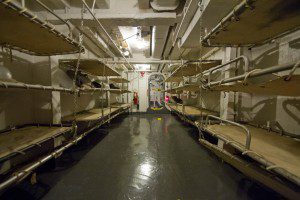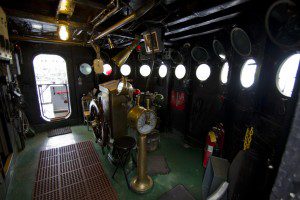 As I walked through the ship, I thought about the men and women I interviewed for the West Virginia Voices of War documentary project and the book Common Valor. Several of them landed on the beaches of North Africa, Italy and France along with Iwo Jima, the Philippines and many other small islands in the Pacific. There was nothing comfortable about these ships.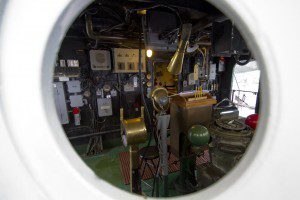 Interestingly (at least for me) is the fact that these ships were designed to beach and offload their equipment. To accommodate that, they were designed with flat bottom hulls and no keel. While that makes practical sense, it makes for a very wobbly ship when crossing the ocean. They were designed to hold up to a 30 degree roll (and could survive a 45 degree roll) and keep moving along with a maximum speed of about 10 knots. That would make for a very, very long trip to cross the ocean.
Because of the men and equipment these ships delivered to battlefields, LSTs are referred to as "The ship that won the war." Obviously, a lot of things went into fighting World War II, but there is also no question that these ships, and the men on board them, did their fair share..