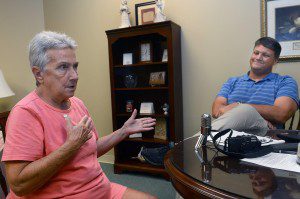 She'd talked about baton twirling, which led to talking about dancing, which led to talking about her third-cousin — Blaze Starr — which led to the story about the time she went to New Orleans to watch her cousin strip.
At another point during the interview, she'd talked about vacationing in Hawaii, which led to the 1977 Williamson flood, which led to the story of her running up the hill to escape the rising waters — carrying her daughter in her hands.
"I felt like my life had meant something, surely, somewhere down the line," Nancy Ball said Tuesday, after her interview with Eric Douglas at Emmanuel Baptist Church on Charleston's West Side.
Ball was the first participant in the FestivALL Oral History Project, which Douglas is facilitating. On Tuesday, she met with the local author and photographer and told him about the building of Capital High School, working as a tour guide at the state Capitol and the 211 circuses she'd seen as a Charleston Civic Center employee. As both Ball and Douglas said, you just don't know where a conversation will lead.
"That's one of the great things about this," Douglas said, after interviewing Ball.
"The thrill of discovery — I don't know what I'm gonna get."
Douglas sat at a small table in one of the church's parlors. In front of him was a Dell laptop computer, a silver microphone — which looked like a cross between Sputnik and a shuttlecock — and a stack of gold CDs.
After he interviews participants, he gives them a recording, burned to a CD.
"As older generations pass on," Douglas said, "we lose institutional memory. This is something they can pass down to their family."
Douglas will be interviewing about 30 people at various locations around Charleston. When he wraps up on Monday, he'll be tasked with looking for themes within the transcripts. He plans to put together a documentary of some sort — something digital, perhaps, with some multimedia bells and whistles. The documentary will hopefully be done by FestivALL Fall, he said, adding that he will donate his recordings to the state archives.
– See more at: http://www.wvgazette.com/article/20150623/GZ01/150629664/1419#sthash.7lTdJA9O.dpuf.