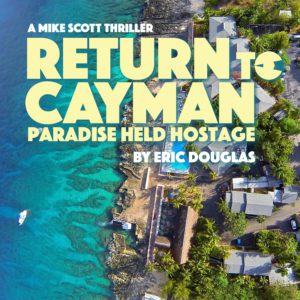 Return to Cayman: Paradise Held Hostage is now available as a thriller audiobook. Once again, Eric teamed up with CJ Goodearl to make it happen and we think you're going to be impressed. CJ's ability to interject excitement and create voices for characters makes the story come alive.
Return to Cayman: Paradise Held Hostage is the sixth book in Eric Douglas' Mike Scott thriller series. One of the underlying themes in Return to Cayman is a cruise ship dropping anchor on a living coral reef. This part of the story mirrors an actual event. On August 27, 2014, a cruise ship dropped anchor and destroyed thousands of square feet of reef. Local divers volunteered their time and energy to restore the reef.
The story is also about cybercrime, including elements from today's news headlines with hackers shutting down the internet and taking over cars. "Our world today is so interconnected, I'm not sure we realize just how fragile and vulnerable our digital infrastructure is. I'm not an alarmist, but there are ways people could take over our lives without a lot of effort," Douglas said.
Goodearl has years of experience in radio and creating audio productions. He is also host on Greg Holt's syndicated radio show ScubaRadioTM.  This is the second collaboration between Douglas and Goodearl. The first was a thriller audiobook version of the Mike Scott novella (7th in the series) Oil and Water, set on Curacao.
All the Mike Scott stories are available in softcover and on Kindle. Return to Cayman and Oil and Water are both available as audiobooks as well.
Story Description
A cruise ship drops anchor on a coral reef, trapping Mike Scott underwater.  A car goes berserk and runs into George Town harbor, nearly drowning the driver. Communications between Grand Cayman and the outside world are cut off.
Is this a case of cyber terrorism by a radical bent on protecting the environment? Or is it something else entirely? It's up to Mike Scott to unravel the mystery before the entire world is thrown into chaos.
Reviews for Return to Cayman:
From the beginning, I was impressed with Eric's writing style. His Mike Scott adventures continue to be at the top of my must-read list with every new release. The latest brings Mike back to the Caymans where the series began. It's just good writing that paints a vivid picture and tells a story comparable to a summer blockbuster action movie. Two big fins up!
"Greg The Divemaster" Holt: Host/Producer of ScubaRadio….the world's first and only nationally syndicated radio show devote to diving!
Get ready to lose some sleep.   Mike Scott has returned to Grand Cayman for a celebration.   Little does he know that his world is about to turn upside-down.   Tech, intrigue, scuba diving and international conspiracy–all the right ingredients for a gripping Mike Scott adventure novel.
Jon Rusho, PADI Course Director, tech guru and avid reader
"The best Mike Scott adventure yet, humanized with a pinch of midlife crisis ('what good is a life, our stories, without loved ones to share with?'), layered over an enlightening love letter to the (contemporary) sea."
Daniel Boyd, author/filmmaker, Chillers, Carbon
RETURN TO CAYMAN is a hold-onto-your-seat, destination thriller filled with eco-terrorism, computer hackers, cybercrime, drones, attempted murder, hostage-taking (of an entire island!), and expertly written scuba diving scenes. This Bond-like ride is filled with international characters, including brainy Italian and Russian beauties, plus the best Bond Girl of all: the stunning Grand Cayman Island herself.
Marie Manilla, author of Shrapnel and The Patron Saint of Ugly
"Mike Scott is one of Eric Douglas's best characters: smart, savvy, and skilled, his adventures set once again in the rich, lush landscapes of the Cayman islands is not to be missed."
Eliot Parker, author of Breakdown at Clear River and Making Arrangements