Connecting the Maya to the Adena in West Virginia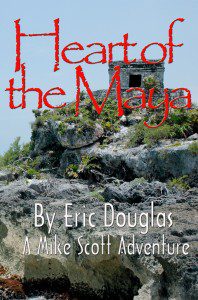 Just last week, I released my first full-length adventure novel set in West Virginia called Heart of the Maya. The story spends some time in the ancient past, but most of it is set in the present day on the campus of Marshall University and in Tulum, Mexico.
A year or so ago, I wrote a column about the Adena burial mounds in West Virginia and how we often ignore the history right beneath our feet. At the time, we had just also survived December 2012, when many "experts" were saying the Mayan calendar ended. Obviously, we lived through that "end-of-the-world" event. It all got me thinking about a connection between the Maya and the Adena in our own backyard. I dug around into the history of both cultures and noticed some interesting similarities, although there is no evidence to say they actually overlapped or had contact.
The same day Heart of the Maya came out, there was a news story talking about a group of divers that found the skull of a teenage girl inside a Mexican cenote dating back to the Ice Age. (Pronounced se-NO-tay, a cenote is a freshwater-filled cave system.) The skull is helping scientists connect modern Native Americans to the people of central Mexico from 12,000 years ago. They believe the people who settled all across North and South America migrated across the Bering Sea from Asia, through Alaska and Canada and then continued to head south.
After working on the story for more than a year and releasing the book, that news story came out suggesting that the connection I created in the dark recesses of my mind may not be fiction after all. So, while the story in Heart of the Maya is pure fiction, it is interesting to think that maybe the mound builders of West Virginia and the Ohio Valley might actually have moved south and eventually become the Maya.
Truth really is stranger than fiction sometimes..