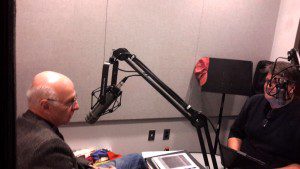 A few months ago, I began interviewing Appalachian authors for a radio show/podcast called Writer's Block on Voices of Appalachia. I will be the first to admit that the idea for the show was largely self-serving. I get to spend time with authors from all over the region, learning what makes them tick and understanding how they approach their craft. The learning process has never been higher than an interview I did last week with West Virginia's Poet Laureate Marc Harshman.
I know some of you were tempted to tune out the moment I said "poet". Honestly, until recently, I would have felt the same way. Poetry was a form of writing that I never "got". I could appreciate the craft of it. I could appreciate the work that went into it. But appreciating the poems themselves was always difficult for me. And what the heck is a "laureate" anyway?
Last question first: In ancient Greece, a hero or a poet was crowned with a laurel wreath. The word has come to signify literary awards or military glory. A poet laureate is the official poet of a state or country as designated by the government. So, the state of West Virginia chose Harshman to be the state's poet representative. West Virginia has had a poet laureate for nearly 90 years.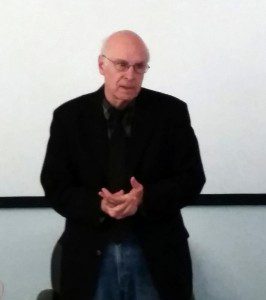 Harshman was in Charleston last week for the Creators Talks at the WVSU Economic Development Center where he read selections of his own poetry, along with the poetry of others, and answered questions from a full house of attendees. Listening to Harshman read his work was an eye-opener.  It was stirring and profound. You hear the emotion, you hear the authority. You hear the rhythm and the music of it. He said he learned about poetry from his father as a child on the farm. It wasn't high art the senior Harshman read for him, but even then, he could hear the "words making music."
Harshman spent his entire adult life in West Virginia. He said he fell in love with the Mountain State when he came East from Indiana to study at Bethany College. Even though he left a couple times for school, he kept coming back. He lives in Wheeling now. "West Virginia is a small state but there's such an abundance of amazing poets and writers and sculptors and dancers. My obligation to promote all the arts," he said.
In his presentation, Harshman also paid tribute to Irene McKinney, the previous poet laureate of West Virginia. She held the post until she died in 2012. He read her poem At 24. "She didn't expect to be here afterward. She had to fight for everything she had," Harshman said.
For me, one of the most notable lines in the poem was "I was writing to save my life."Any writer or story teller will tell you that you don't write for money or awards or notoriety. You write because you have to. You really don't have a choice in the matter. I think that was what McKinney was saying. Filmmaker and the host of the Creators Program, Daniel Boyd, summed it up, saying "There is poetry in everything we do."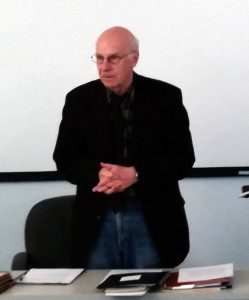 If you want to hear the interview with Harshman, you can listen online in the Show Archive at www.voicesofappalachia.com..