The following is an excerpt from the Mike Scott thriller Wreck of the Huron. 
###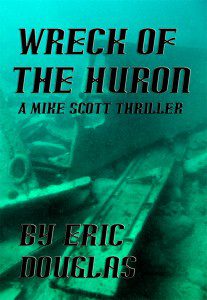 In their tight confines, Mike held Sarah around the waist to keep her steady while she prepared to push her scuba gear over her head into the opening. She wrapped her leg around his while she got everything into position. For a moment, Mike's mind wandered again, but this time he was thinking about something more immediate — the feel of her skin on his. Sarah must have sensed his thoughts because this time she looked him in the eyes again. She was still smiling, but this time there was a different expression on her face. She squeezed his arm tightly and nodded.
After a moment, she released her grip and began looking upward again. She pushed her gear ahead of her with one hand and her dive light in the other. Mike watched as Sarah's scuba cylinder and buoyancy jacket slipped through the hole, followed by her head and then her shoulders. In a moment, she was completely out of sight.
It must go up further than it looked, Mike thought to himself. He sat still, waiting and watching for what felt like 10 minutes, but was probably no more than a few seconds. Then, Sarah's head reappeared back down through the hole. She motioned for him to come up.
Mike repeated the steps Sarah had just gone through. He unbuckled the buoyancy jacket that kept the scuba gear and air cylinder in place and then bundled it all together in tight package. He kept the regulator in his mouth and turned the scuba unit upside down. To give him the most room to move around the top of the unit had to stay close to his face. He pushed the bottom end of the cylinder through the hole first and then began swimming up after it.
The hole had been a tight fit for Sarah. Mike knew it was going to be tougher for him to fit his broad shoulders through the space into the cave above. Mike just hoped it opened up quickly once he was through the hole. Keeping his arms above his head helped him narrow his profile slightly. He felt the rocks scrape against his arms and shoulders. Mike was afraid he was going to get stuck for a moment until he felt Sarah grab his arm and pull him through the sticking point. With that, he was in the cave. It was only in his imagination, but he almost thought he heard a pop when he cleared the narrow opening.
Mike quickly realized he was seated on a rock in three feet of water. His head had broken the water's surface. Sarah was standing up. She had taken her regulator out of her mouth and was taking off her fins.
"Are you nuts?" Mike shouted. "The air might not be safe to breathe!"
"You're breathing it now, too," Sarah replied, her eyes dancing.
"Only after I saw you doing it," Mike grumbled.
"I knew you were right behind me. If I passed out, you could get me out of here," Sarah reasoned. "One of us had to test it."
"Fine. But next time at least let me get through the hole first," Mike said.
"Sure. Next time you and I wiggle into an air-filled sea cave, I'll let you be the one to test the air," Sarah laughed.
"You better," Mike said smiling.
"If you're finished being grumpy, take a look around."
"Pffft." Mike snorted, but he did shine his light toward the ceiling of the cave. It was much higher than he expected, rising at least 15 feet over the water level. It was larger than he expected, too. Toward the back of the cave, he could see what looked like an opening into another room. The floor was mostly flat, almost worn smooth.
He turned to face the front of the cave, where it should have been open to the outside. What he saw confirmed that the once-open cave had definitely been closed off. He had no way of knowing if it was closed intentionally, or if it was a natural rock slide, but the opening was filled with rocks and other rubble.
Sarah pulled herself out of the water and laid her gear beside the opening to the pool. Mike pushed his dive gear toward her and she lifted it out too. Mike climbed out beside it. The air inside the cave was cool, but neither of them was uncomfortable even though they were dripping wet.
"Let's take a quick look around, but we can't stay in here too long. The guys outside will freak out," Mike said.
"Agreed," Sarah said, already in motion with her light pointed at the ceiling. "Look at this. Are these cave paintings?"
"I've read about pre-Columbian paintings in some caves in this area," Mike said. "They looked similar to these. The ones I read about were only discovered after the beginning of the 20th century, though."
"That could mean this cave was closed off before then. When did you say the Huron wrecked again?" Sarah asked.
"It went down in 1877. I know what you're thinking and it makes sense. If the cave was where the Huron was headed but never made it, maybe they closed it off," Mike agreed. "I wish I had brought my camera along."
"We didn't quite know we were going to go cave exploring today, after a quick dive and cave penetration," Sarah said with a smirk.
"It never occurred to me to grab my underwater housing for my camera gear," Mike agreed. "We'll have to come back later."
They looked around the small cave room but saw nothing else of significance. The walls looked like they had been eroded over time, making them nearly smooth. The roof of the cave was egg-shaped with the fat, rounder part of the egg ending in the water.
"Do you want to check out the next room?" Sarah asked, gesturing toward the small opening near the floor.
Mike shined his light at the opening for the first time. It was nearly three feet high and rounded. But Mike immediately realized there was a problem. The hole was blocked.
"We're not going through that way," he said.
"Why not? Oh. I couldn't see that before," Sarah said as she moved closer.
Two feet inside the opening there was a flat wall. Sarah kneeled down and touched it. It was cool to the touch. Iron. It was a man-made plate of some kind.
"Does it move?" Mike asked as he kneeled down beside Sarah.
She pushed with one hand, and then with two, but the iron plate didn't move at all.
"Let me try," Mike said. He dropped onto his stomach so he could get a better angle to push with both hands. Nothing. He turned around and pushed with his feet. Still nothing. Mike kicked it, but all they heard was a hollow ringing sound.
"Just like a man, always going for brute force," Sarah said with a chuckle.
"Checking to see if it's rusted shut. Who knows, maybe I can break it free," Mike said, but after Sarah's teasing, he didn't kick the plate again.
"Come here and look at this," Sarah said, shining her light at the cold metal. "It almost looks like a key slot on this side."
###
Get your copy of Wreck of the Huron today, in softcover or Kindle. It is also part of the Mike Scott Boxed Set that includes the first five novels and two short stories.