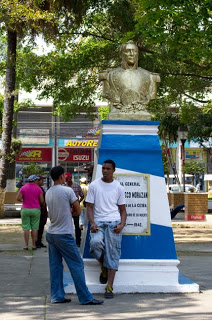 This has been an eye-opening and incredible trip so far. The main purpose, as I've mentioned before, is working with the local hyperbaric chamber and that is going extremely well. I can't really go into a lot of detail on that yet, but it's going to be a great story.
Agriculture still seems to be the major industry here, both legal and illegal. There just isn't much tourism even though La Ceiba is right on the warm waters of the Caribbean and is about 15 degrees North of the equator. There are some hotels, but where there might be a decent hotel, not far away it looks like a war zone. Without some significant outside investment I don't see that changing soon. Most people, if they come through this area at all, end up going to the airport and bouncing over to Roatan, Utilla or Guanaja, three top dive destinations.
But what is really striking here is the amount of American fast food here. There are Pizza Huts on every street corner, along with KFC, Church's Chicken, and Popeyes, along with Wendy's and Quiznos that we've seen so far. Never would have expected all that here. I wonder, too, if that is the cause of some of the obesity we're seeing on the streets as well. Most of the population appears to be relatively fit, but we've noticed some people (mostly men) who appear to be flat out fat. Oh the American curse strikes again.
A good thing here is I've not noticed many people smoking and in a lot of the places I've gone it is posted everywhere Fumar Prohibido. No Smoking. I like that. Not sure what the unemployment rate is here, but I see an awful lot of young men hanging around in the park outside of our hotel during the day. One more final note and then I'll reach a point. Aside from the ocean, you have jungle and adventure travel here. There is whitewater kayaking, hiking and snorkeling.
It's an easy flight to Honduras as well. So, with the proper investment, an available workforce and a penchant for having American things around anyway, it seems like Honduras would be a prime location for adventure travel investment. If it were done sensitively and in step with the local beliefs and cultures, it could be a winner for everyone concerned. Let's not talk about the infrastructure, but there are headaches going anywhere in the third world. Just thinking out loud this evening..