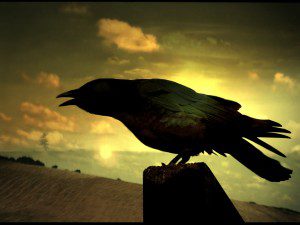 Last October, on Halloween, I decided to write a "scary" story, even though it really isn't my genre. I put it together quickly and posted it on my blog. It was more for me than anyone else, although it got quite a few readers. You can read it here. Around Christmas last year, I also wrote a Flash Fiction piece for the Advent Ghosts 2012 project here. 
I originally wrote this story for another project, but it didn't get used so I tightened it up a bit and here it is for you to enjoy.
Happy Halloween!
Call of the Raven Mocker
(C) Eric Douglas 2013
By Eric Douglas
Alan watched the smoke from his cigar curl slowly into the chill night air. He might have cancer, but he wasn't about to let it take this simple pleasure from him. He'd been too many places and seen too many things to let something like cancer scare him.
He rented the small cabin in the mountains to get away. He needed some solitude to recover from the latest round of chemo. Not that solitude was hard for him. His career as a journalist racing from one trouble spot to the next had left him pretty much alone. His wife died in a car accident while he was away; she'd been drinking. His children never forgave him for not being there. They hadn't spoken in years.
"Kraaa."
The noise made Alan start.
"Kraaa."
Alan looked around him. The mostly-bare trees of late October did nothing to block the sound.
"What do you want?" Alan asked the woods. "Can't a man be sick in peace?"
"Kraaa."
"So that's how it's gonna be, huh? Fine. Time for bed anyway. I'll leave the night to you," Alan said, standing and pulling the dark Indian blanket from his legs to his shoulders. He stubbed the cigar in the ashtray and went inside. He thought he heard the bird call again before he drifted off to sleep. Dark images and the sound of rustling silk as large black birds rushed past filled his dreams.
The next morning Alan woke up in a fouler mood than usual and stumbled to the kitchen to fix coffee. He brought a few supplies with him, but a quick search of his bags revealed the one thing he needed was missing.
"Great," Alan growled as he slammed cabinet doors closed. He dressed quickly, putting a hat on his nearly bald head. "That little store up the road better be open."
Pulling into the gravel parking lot a few minutes later, Alan looked at the sign over the small cabin: Corbie's General Store. "Uuuugh."Going inside, Alan reminded himself to check expiration dates. No telling how fresh anything was.
"Morning," a man said from behind the front counter.
"Nnnnngh," Alan replied with a wave of his hand as he searched for coffee.
"Let me know if you need help finding anything."
After a few moments, Alan found what he was looking for and took the can to the counter.
"Anything else I can get for you?" the man asked.
"That's it."
"You renting one of the cabins?"
"Yeah."
"It's good to have you. Most of the tourists are gone, but this is my favorite time of year around here. No crowds and everything's quiet. I can recommend a couple outfitters if you need anything."
"Listen…" Alan began, making eye contact for the first time. He pulled back the grouchy reply on the tip of his tongue. "Sorry. I'm just out of sorts this morning. I need some coffee. Didn't sleep well. They call it chemo head. The chemicals do all sort of things to you."
"It's okay. My aunt went through the same thing. Changed her personality some. I'll sell you the coffee, but there's a fresh pot right over there. Help yourself."
Alan smiled for the first time in what felt like a long time. He nodded his thanks and walked to get a cup.
"You Corbie? What sort of name is that?" Alan asked after taking a hard draw of the dark, bitter brew.
"It's sort-of French; means Raven. I'm from the Cherokee nation. My people consider me a bit of a medicine man. Got a little French trapper back in there somewhere and my mom had a sense of humor."
"I heard a raven outside of my cabin last night. Or maybe there were several of them. Don't guess it was you, though," Alan said, trying to make up for his earlier grouchiness.
"No, wasn't me," Corbie said, smiling with his mouth while his eyes searched Alan closely.
Alan flinched at the burning look. "Well, I guess I'll be going. I'll let you get back to work."
"Have a good one," Corbie said. "Let me know if you need a guide."
"Will do."
Alan spent the rest of the day in the cabin napping and reading. Sunset came early in the mountains, leaving the cabin in twilight. Alan selected a fresh cigar and was headed to the deck when he heard a knock at the cabin door. He jumped at the sound. Alan was surprised to see Corbie standing there; the man's eyes seemed to bore into him.
"Ummm, hey. Something wrong? Did my credit card decline or something?"
"No, everything's fine. My wife made dinner this evening and we had extra. I thought you might like a good home-cooked meal."
"Ummm, thanks…What do I owe you for it?"
"Not a thing. Just being neighborly," Corbie said with a laugh. "Can I come in for a minute?"
"Ummm, sure, I guess," Alan said and then realized he was being big-city wary. Time to relax, he told himself. You wanted to come to the country. "Sorry. Come on in. I've forgotten my manners."
"No worries. New York?"
"I'm from a place not too different from this to be honest; I live in Los Angeles, now. Been away too long, I guess."
"Is that why you came here? To get back to what you lost?" Corbie said as he sat the dinner plate down.
"Just wanted to get away; wanted to rest. No phones, no stress."
"No family?"
"None that still speak to me."
Corbie seemed to think about that for a moment and changed the subject. "You said you heard a crow last night?"
"I said it was a raven, actually. They're bigger, right. And sound a little different."
"Did you see it? This raven?"
"No, it was too dark. I could hear it all around me like it was moving. Why?"
"Oh, nothing. Ravens mate for life. There's a mating pair not far from here and I was curious if they'd moved or if there was a new pair in the area. Sorry, sort of a hobby. Guess it's because of my name."
"Sorry I can't really help you," Alan said relaxing a bit. "I'll keep an eye out and stop by the store if I see anything."
"There's a Cherokee legend about an evil spirit called the Raven Mocker. My people call it the Kalona Ayeliski. It's invisible, but it calls like the raven. It preys on the sick and the dying, stealing their hearts after tormenting them," Corbie said, moving toward the door. He was smiling again, with the smile that only moved his mouth.
"Thanks for the warning, but I don't think I'll be tormented by any evil spirits tonight. I might be sick, but I think I'm getting better."
"I pray that's the case," Corbie said, serious at first and then he smiled.
Shutting the door, Alan surveyed the room. "I have no idea what that was all about."
Picking up his cigar and cutter, he moved out on the deck. He immediately heard the raven.
"Kraaa."
"Kraaa."
"Kraaa."
"Wow!" Alan said out loud. He looked around nervously, trying to see a sign of the bird. The wind blew harder, making it impossible to light his cigar.
"This isn't going to work," Alan said as he went back inside and shut the door.
Black birds, strong winds and scraping noises dominated his dreams again, leaving Alan even more exhausted the next morning. Walking through the cabin, Alan realized a storm passed through overnight. There were broken limbs on the deck and everything was wet.
Realizing he was hungry, Alan dressed and head down the two-lane blacktop toward a small diner. Alan was getting used to the winding roads, driving the rental car a little faster and enjoying himself. Coming around a blind turn, Alan saw an old man standing there. He slammed on his brakes and swerved on the wet road. Alan brought the car to a rest nearly sideways in his lane. He looked in his rearview mirror to see if the man was all right. There was no sign of him.
Getting out of the car, Alan walked to the ditch beside the road. Nothing there. He looked around for another minute, until a car came down the road from the other direction and had to drive around his car. Alan waved an apology and got back in his car. "Now, I'm seeing things…" he grumbled, his mood dark again.
Taking a seat in the diner with his back to the door, Alan didn't see Corbie approach.
"Good to see you out, today. Interested in some fishing?"
"Wha? Oh hey. No, not today. Not sure I'm up to that. Didn't sleep…Hey, do you know an old man who lives around here that walks along the road? I almost hit him today," Alan asked. "Someone should tell him to be more careful."
After listening to Alan describe the old man as frail and withered, Corbie shook his head. "Doesn't sound like anyone I know."
"I'm not sure I saw him either to be honest. When I stopped my car he was gone. No sign of him."
"Did you have more dreams last night? Of the ravens?"
Alan simply looked at Corbie for a moment. "Is there something you're not telling me?"
"How about I watch over you this evening?" Corbie asked. "Legend says the Raven Mocker takes the shape of an old man for its victims. I'm afraid the spirit is coming for you."
"Watch what? I don't need a medicine man or whatever you are. There aren't any evil spirits. I'm sure it was just some old man," Alan said as he stood to leave. "This whole place is crazy. I don't know what you're up to, but I'm not buying it!"
Driving back to the cabin, Alan decided he made a mistake coming to the mountains and wanted to go home. He booked a flight the next morning and called the cabin rental company to let them know he was leaving early. Physically, he was improving and now mentally he was finding himself again.
"Maybe this place did work for me after all," he said as he walked toward the deck. He stopped in his tracks when he saw a raven on the railing looking directly at him. "So there you are. I wonder if I should let Corbie know." Alan glanced around to find his camera. When he looked back, the raven was gone.
"Kraaa."
"There's no such thing as an evil spirit and nothing's chasing me. Time to get back to my world."
Alan turned in early so he could make his flight. Flying west, he would be home by mid-day. He thought about how much he missed his children. They didn't know he'd been sick. He decided to make some phone calls when he got home; it was time to reconnect.
The next morning, when the cleaning people arrived to straighten the cabin, Alan's rental car was still out front. They found Alan in bed. The sheets were a mess and everything was twisted and turned over. Alan was dead.
A member of the local volunteer fire department, Corbie arrived and knew the Raven Mocker had struck. He wondered how the coroner would explain the Alan's missing heart even though there were no marks on the man's chest. The Raven Mocker liked to torment its victims before taking their lives and their hearts. Looking at the room, Corbie guessed Alan hadn't died peacefully. If only Alan had allowed him to keep the Raven Mocker away.
Of course, the night before had been Halloween. That made today the Day of the Dead…
The End