I've written a lot about lobster on this blog, the practices around harvesting it and the terrible cost harvesting divers pay when they go out to catch lobster. One aspect I've never talked about, though, is the people who are buying them and then selling them in the US. I hope to dig into that topic more in the near future, but here is an interesting little tidbit.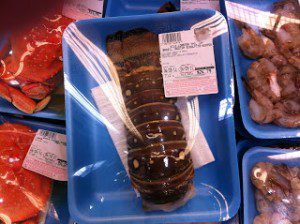 Over the weekend, a friend took a picture of lobster for sale at a local discount warehouse store with a pretty large seafood section. There is no way of knowing if this lobster was caught by hand or by trap—both techniques are used in Brazil for harvesting lobster. The interesting part is there has been a 6 month moratorium on harvesting lobster in Brazil. It was done so the lobster would have time to reproduce and grow. The moratorium was just lifted on June 1, 2011.  The package says this lobster was packed on June 3. While it is technically possible that this lobster was caught on the first day of the return to fishing and rushed off to market in the US, the odds are low. And if it had been, why would it be frozen?
So, either this lobster is very old and has been frozen a long time, or it was harvested illegally and inappropriately. The package does say "previously frozen", but I doubt any consumer would expect it to be frozen for 6 months or more. I wouldn't be thrilled to pay $25 US for something that had been frozen that long.
I've said it before and it bears repeating now, I'm not opposed to harvesting or eating lobster – although I haven't had lobster since I began the Harvesting Diver Project. Simply stopping the harvesting of lobster would simply put a lot of people out of work with no real solution to the problem—it would simply make lobster that much more exotic and expensive without helping the fishermen. I can just see black market lobster being sold at exorbitant prices rivaling the drug trade. That said, this is another great example of a supply system that needs fixing.
If you don't believe me, read the original article yourself from Brazil talking about the return to lobster fishing. It's in Portuguese, but your browser can translate it.
"Icapuí Hoje é um dia de voltar à rotina: madrugar no mar, mergulhar manzuá e esperar que dali venham lagostas bem graúdas, porque por seis meses elas se reproduziram e ontem acabou o período do defeso. […]"
"Icapuí. Today is the day to return to the routine: up early in the sea, diving manzuá and expecting to come back with big lobsters, since for six months they must have had enough time to reproduce and grow big, and the banning period has just ended yesterday.[…]"