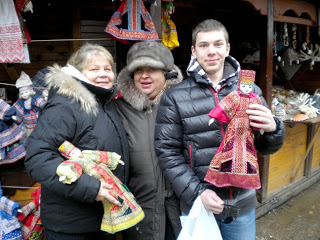 There is something to be said for navigating around Moscow with a champion Russian rally race driver. Vadim, the host father, drove rally cars for 10 years and now owns a car and a race team, and you tell it when he navigates his way through Moscow traffic.
Yesterday was spent doing our best to bolster the Russian economy. We went shopping at Izmailovo. This is an enormous outdoor flea market/bazaar. I don't know that it holds a world record for size, but it seems to go on for miles. There are sections that are for domestic products and housewares, but we were in the Russian souvenir section and that is plenty big enough.
Some beautiful handiwork there as always, along with basic tourist junk and military surplus. I've seen a little bit of everything there over the years from one visit to the next. I've even included a couple photos from the place in my exhibit. When I first visited there, it was very much just a flea market with people laying their goods on the ground and others with makeshift stalls that looked like they were cut from metal storage containers. Today, it has grown and evolved to include nice wooden, decorated stalls and asphalt paved streets.
Mom was busy talking to a seller about a purchase while I marveled at the young man's excellent and nearly unaccented English. His response to my question was "I learned to speak English here in the market. Eight years of selling and you will learn to speak Russian, too." I commented to mom later about just how incredibly smart he must be to have those sorts of language skills.
The shops were set to close around 5 pm and the day was winding down as we made a last purchase. It was something for my daughters, but mom was picking them out. The lady selling them (not saying what in case the girls read this) took an instant liking to mom. By the time we left, she was hugging her and kissing her on the cheek along with offering us meat pies and vodka. We declined. I have pictures with her on mom's camera. Those will soon follow. She just hilarious, though. We all decided that the odds were high she had been trying to keep warm after standing outside on a cold Moscow day with a little vodka that probably led to her gregariousness. The young man booth next to her was dying laughing, too. Probably because he knew her antics and would be the subject of them himself later.
This was the first time, though I have ever had a chance to visit the Izmailovo Kremlin. This is one of the later additions to the facility and is pretty impressive. A kremlin simply means a fortress, usually stone walls to defend against invaders. In fact, there are 11 kremlins (I think) in Russia. This one, however, is built for the tourist trade and is made to look like an old village. There are shops and museums inside, including a vodka museum and a wedding chapel. We toured the vodka museum and I learned a couple things. Very fun. The place even has a website in English: http://kremlin-izmailovo.com/english.