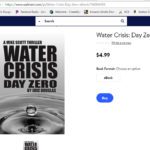 It's been coming for several months, but as of the end of last week, Walmart has started selling ebooks in cooperation with the e-book distributor Kobo. Until now, Kobo didn't have a big foothold in the US but are big in Asia.
All of my adventure stories in the Mike Scott Series and the Withrow Key Series are available on Kobo and now that means you can download them through Walmart.com. (They don't appear to be carrying Cayman Cowboys, since it is free, but you can get that one directly from Kobo, once you download the Kobo ereader app.)
This is Walmart's latest effort to compete head-to-head with Amazon and I think it means good things for readers and authors.
You can find my books with this link.
They've got some refining to do to make the interface as easy to navigate as Amazon, but hopefully they will put some effort into it.
You can buy a Kobo reader here.
Or download the Kobo e-reader app for all of your devices. (I'm sure there will be a Walmart branded version of this soon.)