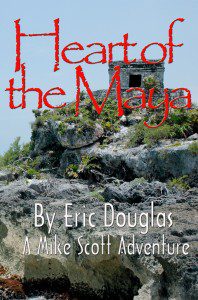 Working with the fine folks at DUI – Diving Unlimited International, we ran a contest to giveaway a copy of my latest dive adventure novel, Heart of the Maya. In the book, Mike Scott dons a DUI drysuit for his dives underneath an Adena Indian burial mound.
We had such a good response to the contest we decided to give away three copies of Heart of the Maya.
The winners are:
Harry "Stoni" Korb from Montreal, Canada
Leon Cubero from Pennsylvania
Brent Paul from Ontario, Canada
Signed copies of the novels will go out in the mail this week.
If you didn't win, you can still get your very own copy on Amazon. If you want a signed copy, contact Eric directly at eric  @ booksbyeric.com.
For more information about the book, and the opportunity to read the first three chapters, visit the book description page..