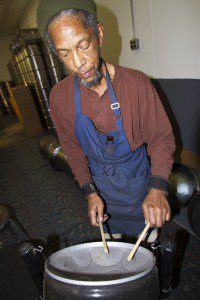 The sound of steel drums evokes thoughts of warm sunny places: Jamaica, Dominica, the Bahamas, and Charleston, West Virginia.
Ummm, okay, maybe the last one of those places isn't warm and sunny at the moment, but what if I told you that one of the nation's premiere steel drum manufacturers is in West Virginia? Michael Perkins, owner and chief artisan for Fancy Pans Steel Drums, moved his business to West Virginia a few months ago.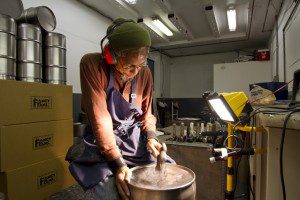 Perkins was originally born in Boone County, the son of a coal miner. His family moved from there to Charleston and then on to Washington D.C. Later, he headed to the West Coast where he learned his trade. He has been hammering out steel drums for 20 years. Two months ago he moved back to West Virginia and has set up shop, turning out more drums.
These aren't toys. These are high quality, professional grade steel drums that are shipped all over the country, and probably the world. They are tuned to A440. If you want to find out more about Perkins and his drums, visit his website at Fancy Pans Steel Drums.
While Perkins is probably one of the more unique local businesses, it isn't the only one. When it comes to Christmas shopping or giving unique gifts, so many people think of the "big" stores. And they are fine. I'm sure at some point I will don my armor, say a prayer and venture out into one or more of those places for a gift or two. But what about the small businesses? The locally owned? The entrepreneurs in business because they love what they do, not because they are looking to get rich? (This past Saturday was Small Business Saturday, but that doesn't mean it is the only day you can shop small…)
As of a couple years ago, there were more than 22 million sole proprietorships in the United States. Those are independent businesses; people working for themselves either full-time or part-time for some additional cash. Many of those people are artisans who make beautiful crafts and art for the sake of making art. Every artist, be it a painter, a potter, an author or man who hammers steel drums, wants their art to be appreciated. The way they do that is by getting it out in front of the public. That happens when they take it out and sell it at the local craft show, at the co-op, in the storefront or online. And there is nothing more special for an artisan than selling your work to someone who is truly excited about it. I get a thrill every time someone asks me to sign one of my books.
The advantage of buying local is, if you ask nicely, many artisans are only too happy for you to come by the workshop to see your gift being made and will even sign it for you. I don't know of any gift you can buy in a big box store that can make that special connection..