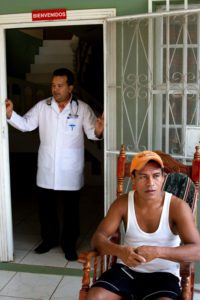 Dr. Matias Nochetto and I made it to La Ceiba Honduras safe and sound with no problems other than about an hour delay in Miami. Pretty minor in the grand scheme of things.
Dr. Elmer Mejia picked us up in the airport in San Pedro Sula and drove us the 2.5 hours to La Ceiba. We could have grabbed another flight over here, but Elmer offered to pick us up. He suggested the drive would help us see more of the country. Pretty fascinating trip. He warned us when we got in the car that he chose to bring his smaller car because crime around the airport is bad and people have been killed for their cars. Made for an interesting introduction to the country.
We passed what Matias and I both thought was a school. A fleet of retired American school buses out front were loading up what appeared to be high school-aged kids. After we got past Elmer explained that it wasn't a school at all, but a textile factory and the company bused their employees to work and to their villages. As we drove on across the mountains toward the coast, we were stopped by police checkpoints four different times. Honduras has also become a waypoint for the drug trade coming up from South America so the federal police are out to stop it. Noble effort although I'm sure it's a losing battle. This is all cocaine heading toward the US.
Don't get me wrong, though. Everything here isn't bad or scary. There is a lot positive going on, and I'll write more about that later this week. This country is struggling no doubt, but I guess that is the point. We need to understand each other and the situation before we can truly appreciate what's going on.
No pictures yet. Was just traveling all day. Should have something to show tomorrow though. Stay tuned.