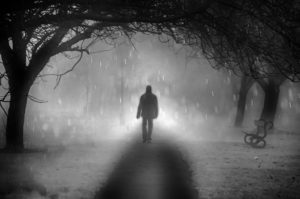 My annual Halloween short story. Boo!
(Read the rest of the stories from the 2017 Halloween Short Story Collection here.)
In the shadows of my mind
I see her just the way she used to be
When I'm alone at night and I turn off the lights
She goes walking through the shadows of my mind
Uuugh, I hate that song. I wish I'd remembered to bring along some CDs. But no, I couldn't do something so simple…I was in too much of a rush to get out the door. Not that I wanted to come, but I had to. I really didn't have any choice in the matter," Lenny grumbled. He did that, talking out loud when he didn't understand what was going on or when he was alone. He was the kind of person who didn't like to be on his own, or have things too quiet. Being closed off from the world or buried alive were his worst nightmares.
Lenny jabbed through the buttons on his rental car's radio like it's the radio's fault that he couldn't find anything to listen to. He usually listened to streaming music through his phone, but the cheap rental car he got at the airport didn't have a MP3 port and he was so far out in the middle of nowhere on the drive he didn't have a signal. But there he was, making his way down a back-country road in West Virginia, searching for the turnoff to the funeral home to go to a funeral he didn't want to go to anyway. He was "home" if you could call it that. He had been born and raised on these same back roads, but he left a long time ago and hadn't been back since.
And there's nothing to listen to on the radio but country music and 'oldies.' I may not survive this.
Lenny, his real name was Leonard, was an average guy. Average height. Average build, complexion and hair. Even an average personality.
I'm on my way to a funeral. I guess I should be sad, but I really don't remember this woman. We dated at one point, a long time ago, but it was a really long time ago. I dated lots of girls back then. Some meant more to me than others. This one? Not so much.
Her passing would have been just another blip on Lenny's radar if he hadn't gotten a call from an attorney. The lawyer offered his condolences when he told Lenny who died, but Lenny had to ask him three times who she was before a really dim bulb came on and he placed her name. Or he thought he might've kinda sorta remembered her. When the lawyer explained to Lenny that the woman had mentioned him in her will, his eyes lit up.
Are you freaking kidding me? Some woman I dated for probably one night years ago put me in her will? And then he tells me he can't say what the will says, only that I'm in it. And if I want to find out what this is all about, I have to come to the funeral. In two days.
Life hadn't been so good to Lenny lately. Six months before he got laid off from his job and had been struggling trying to find a new one.
Who wants to hire a middle-aged man with experience these days. All they want are kids they can bring in on the cheap. Of course, as soon as my paycheck left, so did my wife. My girlfriend, too. No one wants to love you when you're poor, right? And then I get the call that I'm in some woman's will. I've got nothing better to do. Maybe I was so amazing in bed she never forgot about me and left me her fortune.
He had already mentally spent half of the money he expected to get.
"My first call will be to my girlfriend. I'll tell her about the money and she'll want to get back together. And I'll laugh at her and tell he no way. That'll be great! I really can't wait. Who knows, maybe I'll meet someone at the funeral. She'll want to know what was so amazing about me that, damn, what was her name? Anyway, what was so amazing about me that this woman I barely remember remembered me in her will. And then she'll ask if I'm still that good. Of course, my answer will be I can show her. And then we'll be off to the races."
"Of course, I need to get to the funeral first before I can collect my check and get out of there. The flight delays into the podunk airport didn't help. And then that idiot at the rental car counter. It's not my fault that the reservation wasn't there. He finally found me a car, but only after I gave him a piece of my mind. See if he treats me like that again."
It's just a girl I used to know a long long time ago
I did her wrong just one too many times

Now every single night when I turn off the lights
She goes walking through the shadows of my mind.
There's that damn song again. The Ray Charles version is bad enough, but now a country version? I'd rather gouge my eyes out. I think I just need silence. Time to concentrate on the road anyway. I've got to be close. The fog is getting really thick and I don't want to miss my turn. It seems like it should be right up here somewhere.
Lenny drove down a narrow, winding road filled with switchbacks and curves. It had been a while since he had driven through the mountains and he had lost that driver's edge for it. Like a lot of late evenings in the fall, the fog settled into the valleys nearly obscuring the mountains, the road and the entire world. It muffled sounds and absorbed light.
Let me think. I passed the schools I went to. The elementary school was on the left and the high school on the right. And I saw the turn to the house I grew up in. I'll have to go back down that road and see what the house looks like now. Then there was "downtown". I looked just like I remembered it, except smaller. I could've sworn those kids in front of the old grocery store looked familiar. Just a couple small town kids on their bikes. Some things never change.
Lenny jammed on his brakes as he glimpsed a sign hidden behind a bush. His car slid to a stop in the middle of the fog-slicked road, blocking both lanes.
Damn, I nearly missed it. Man, this fog is getting thick. I can barely see anything.
He put his car into reverse and backed up in the middle of the road so he could enter the drive to the funeral home.
Hope no one is coming up behind me. No lights coming. I'll do this quick. I know I'm late, but I'd think there would be more traffic out tonight. I guess the poor old woman must be a spinster. I must've ruined her for other men. Hah. That's funny.
Lenny slowed as he approached the funeral home. There were only a few lights on the building's exterior and just a few cars in the parking lot. It looked just like he remembered it from the night of his father's funeral, though, including the fog. Creepy and old. Run down and tired.
I really hope I'm not too late. The lawyer said they were going to read the will at the end of the service. As long as I'm here for that, it'll be fine. Still wish I could remember her name…
Lenny entered the funeral home and was immediately greeted by heat and noise. The room was full of people, but they seemed to absorb the light in the room, making the room dark and dull at the same time.
This place is packed! I guess everyone must've walked here, because there aren't enough cars in the parking lot for all these people. Too bad she can't see this. It'd make her proud to know that this many people came out for her funeral. That says something about you, doesn't it? That people cared enough about you to show up at your funeral on a crappy night like this.
Lenny scanned the room, looking for familiar faces. He was trying to find the attorney who had called him, even though he had never met the man, but purely out of habit he tried to apply faces he knew to the crowd. There were people he would be happy to see and others he wouldn't. If he had to face those people, he would deal with it.
Wait, you don't think she…oh man. What if she had the attorney call all these people and give them the same message? If I've been scammed into showing up, I'll… What are you going to do, moron? Kill her? She's already dead. Pretty tough to get revenge on someone who isn't breathing anymore. Judging by the number of people here, a whole bunch of people are going to feel the same way. Ain't nobody gonna be happy after this. I just hope I'm wrong. Only one way to find out. Have to stick around to the bitter end.
Lenny moved away from the funeral home door and made his way inside, sticking to the outside of the room and keeping his back to the wall. He didn't like crowds and he wanted to avoid surprises.
Man listen to that music. Why is it always the same in this small–town funeral homes? Mournful, slow and boring. I think the way they do it in New Orleans is better. Sad at the beginning and a celebration at the end. That's the way I want it to go for me when I check out. A few tears sure, but then turn it into one big party. Lots of fun. I want everyone having one last blast on me. Yeah, that's it.
Wait, that looks just like that kid, what was his name? We used to be so close. Always together. Mom used to call us 'two peas in a pod.' He doesn't look like he's aged at all. I don't know the woman he's talking to, but we're all here for the same reason so I'm going to find out what they know.
Lenny approached the couple he saw talking.
Hey guys, how's it goin? Some turn out, huh? Shame the way things ended, isn't it?
"It's sad to end your life like that. Alone and depressed. No one to turn to. It's a real shame. You two were close, right?" the woman asked.
Well, I don't know about close…
Yeah, we were. Back in the day, but we drifted apart. I still would've helped out. I was just a phone call away.
Oh, sorry, I thought you talking to me. I didn't mean to interrupt. Listen, do you guys know where the lawyer is? I want to check into a couple things. You know the drill. Make sure everything is on the up and up.
"I think the attorney said we'd get started soon. He wants to make sure everyone is here and see if anyone is going to step up and take responsibility. There are a lot of things to deal with."
Oh, okay. I'll look around up front. Thanks. Talk to you guys later.
Lenny moved away from the pair, drifting closer to the front of the room. He could see the casket at the front of the room, surrounded by flowers, but from his angle he couldn't see inside.
What sort of things are there to deal with? That's really strange. Take responsibility? Did someone kill her? This is getting weirder by the minute. I hope this is over fast so I can get out of here. I wonder if anyone is going out later. I think I passed a little bar on the way here. Maybe some people will head there for a "wake". I still need to find a place to crash tonight, too. Maybe I'll find one of her friends in need of some comforting…  
Lenny looked around and realized the room was totally full. People were packed in, shoulder to shoulder. Everyone was standing. Where did the chairs go?
I bet the parking lot is full now. Look at all these people. That guy looks familiar. And those two women. For a funeral, no one seems all that sad. They're just talking. No one is crying. That's really pathetic. How do you live this long and not have anyone upset that you're gone? I guess maybe she was sick for a while, so no one was surprised when the end came. Really strange. No one is going to the front of the room to pay their last respects, either. Maybe these two will know something.
Lenny approached another couple of mourners.
Excuse me, can you tell me what happened?
"I heard it was suicide. First the layoff and then the divorce. Everything just came crashing down."
"That's what I heard, too, except I heard it was an overdose. Maybe that was intentional. Either way, it was a sad way to go. All alone and no one seems to care, either."
"I hadn't heard that. I thought it was just alcohol. That stuff is becoming a real problem around here. There are heroin overdoses all the time. I never thought that crap would come back."
"Me either. It's tearing this place apart, for sure."
Wow, that really sucks. I've been through some of the same stuff, so I know what that's like, but I think people who commit suicide are just weak. There really isn't any excuse for it. Heroine is becoming a big problem where I live, too.
"It's really a national epidemic."
Hey do you guys know where the lawyer is? I'm curious when things are going to start.
"Here comes the lawyer now."
Oh, great. It's about time.
Man, this lawyer looks just like I would've imagined when we talked on the phone. Dull and boring, dark suit and tie and all. I'll bet that's what he wears every day, not just to funerals. It doesn't look like he's seen the sun in, well, I'm not sure he's ever seen the sun. Probably never had any fun, either.
"Lenny, it's time we talked."
Man, I couldn't agree more. This place is starting to give me the creeps to be honest. Never been real good with funerals. I try not to go to them if I don't have to.
"So, why did you come to this one?"
The only reason I'm here is to find out what I'm getting from the will.
"Is that why you didn't go to your mother's funeral? You weren't going to get anything?"
Oh, I got some money when Mom died, I guess. But my brother took care of all that. I didn't have to deal with it. Making the final arrangements for the funeral and then all the financial arrangements. You know the drill. I was just really busy when it all happened. I had things to do. But how did you know I didn't go to Mom's funeral? What's this all about?
"Everyone here knows who you are and what you did. And what you didn't do, too. Haven't you figured that out yet? Don't you recognize the people here tonight?"
Ummm, I guess I recognize a few of them. Look, can we just get this over with? Is there going to be some sort of service or something? Are we waiting on something before you read the will? I'd just like to move things along and then figure out where I'm going to stay tonight. Okay?
"You mean figure out which grieving friend you can seduce tonight so you can have a place to stay, don't you?"
Well, ya know, if it works out that way…wait, how do you know I was just thinking about that?
"Have you paid your respects to the deceased yet?"
No, honestly I haven't.
"Maybe you should. Right this way."
Okay, look, I'll go look at the dead body if that will move this process along. I'd really like to wrap this up. The fog out there is getting pretty thick. I'd like to get back to town and find a hotel for the night. I have a flight in the morning.
"Do you? How was your flight coming in today?"
It was about the same. I mean, like all flights…kinda boring. Nothing special to remember. Just a flight.
"Is that why you can't actually remember it?"
Look, let's just go look at the body and get this show on the road. (What is up with this guy? I didn't come here to be interrogated or talk about me. I came here to read the will, take my share and get out of here. He is really starting to piss me off.)
Lenny walked to the casket at the front of the room. At first he couldn't tell who was lying there. And then it became clear.
That's my mom! What the hell is going on here? Is this some sort of a joke? My mom died two years ago. What is her body doing here?
"Lenny, I'm sorry, but there must be some mistake. Are you feeling all right? I think you should look again."
Lenny turned back to look at the casket and saw a younger woman, about his own age, but he still didn't recognize her. He rubbed his eyes and pressed his fingers to his temples, trying to ease the sudden pounding in his head.
Oh, wow. Sorry, I don't know what's going on. That was really weird. Two seconds ago, I would've sworn I saw my mother lying in that casket.
"Maybe you need to sit down for a moment. Is there anything on your mind that you want to talk about?"
No, look, I'm fine. I just want to get this over with and get out of here, okay?
The lawyer led Lenny to a pew at the front of the funeral home. Lenny said he didn't want to go, but was unable to resist the lawyer when the man put his hand on Lenny's elbow and guided him to a seat. Lenny sat down without argument.
"Lenny, you seem to be disturbed by being here in the funeral home for a friend like this. Maybe it is just bringing up some memories or emotions that you haven't dealt with. You seem like you're under a lot of pressure."
Don't you have other people to deal with here? Why are you spending so much time on me? What about her family or friends? People that actually remember her? I can't even remember her name. What does that tell you? My feelings here don't make any difference. I'm just here to get my money and get out of here. Do you understand that? I couldn't care less who is in that casket!
Lenny jumped up from his seat and pointed at the casket. Before he could say anything else, he was dumbstruck by what he saw. It wasn't his mother. Or a strange woman. He saw himself lying there. Dead. He looked old and tired. He had lost weight and some hair. But it immediately recognized himself surrounded by the fake silk padding.
The lawyer began laughing. At first it was just a chuckle, barely escaping the man's lips, but the noise quickly grew into a booming laugh that hurt Lenny's ears. And then, just as suddenly as the noise boomed out, it was gone. Silence.
What's going on here? Am I dead? Is this a dream? I don't understand why I'm in that casket. It is me, isn't it?
"Yes, Lenny, it is you, but then again it isn't. I'm not sure if you'll be able to understand what I mean, though. You aren't actually dead. What you see is in your mind."
Lenny looked around the funeral home and everyone was gone. The old, tired room was totally empty. It was the same building, but all the people were gone and so was the casket. The sun was shining through the windows. Night had turned to day and the fog was gone.
So, this is some sort of dream. That's it. I'm dreaming. No wonder everything is so strange. There really isn't a funeral, or a will, right? This is all just some weird dream. I took some of that nighttime cold medicine again and its stirred up weird dreams. That stuff always messes with my head. I'm going to throw that crap away when I wake up. I hate this.
"It is all in your head, but no I wouldn't call this a dream, Lenny."
You're right, I'd call it a nightmare. There is nothing fun about this at all.
"Again, it's in your head, but I don't know if I would call it a nightmare, either."
Are you God? Or the devil? I don't understand…
Lenny sat back down on the bench at the front of the room and dropped his head in his hands. He sobbed for a moment and then calmed himself down. He had to figure out what was going on.
Is this like A Christmas Carol? Are you the ghost of Christmas future? I know I haven't been a good person. I've used people and then walked away. I haven't been a friend. I've been selfish. Is that what you want to hear? Tell me what I need to do to change this. I'll do it man. Come on. Cut a guy some slack. I will change and buy a Christmas goose. Or maybe it's just time to wake up.
Lenny began slapping himself in the face, trying to wake himself up. Nothing changed. He was still alone in the funeral home with the lawyer, although it was finally dawning on him that the man wasn't a lawyer at all. If he was even really there. He wasn't sure what was actually real.
"Lenny, just stop it. Slapping yourself isn't going to do you any good. There's nothing to wake up from. I can't tell you what to do to fix this, because there's nothing to fix. We aren't in a Hollywood movie. This is just your life, or what's left of it. And that's something you'll just have to deal with."
I don't understand! Who are you and why am I here?
"Lenny, you always told yourself you would make a death-bed plea for forgiveness from your sins. You said you would make things right with your friends and family when you got older. You would pray, or donate money to charity. Or go on a pilgrimage. The one thing you never counted on was what you would do if you couldn't do those things. You never thought about what would happen if it all came to an end so suddenly that you couldn't do any of that."
But you said I'm not dead.
"You're not."
I've been trying to forget but I haven't forgotten yet
Through the day I seem to make it fine
But when I lay down at night and finally close my eyes
 
She goes walking through the shadows of my mind
The sun shined brightly and glinted off the river in front of them. A gentle breeze blew through the mild fall air. The leaves were just beginning to turn color, making their inevitable march toward winter. The two nursing home orderlies stood behind the patient, enjoying the moment outside.
"Have you ever seen this guy have a visitor?"
"Not that I can remember. I'm pretty sure the state's paying for his care, too."
"That's really sad to not have anyone there to care for you in your later years."
"Doctor Boyd said he's basically brain-dead even though his body is in good shape. The rate he's going, he might live another 20 years like this."
"Do you think he's aware of anything? Does he know what's going on?"
"I doubt it. There's almost no brain activity at all. They said it was just a sudden, massive stroke. One second he was fine and then the next second he was like this. No chance to say good bye or anything. Just flipped a switch and he was gone. He can't control his body at this point. If he's in there, he's basically trapped in the shadows of his mind."
"So, he may be reliving old memories, or there may be nothing. No light on, no consciousness."
"Could go either way I guess. If it were me, I would hope for nothing. I'd hate to be stuck with nothing but my old memories."
"I don't know. There were some great times that I'd like to relive."
"Yeah, but you're a nice person. What if you weren't?"