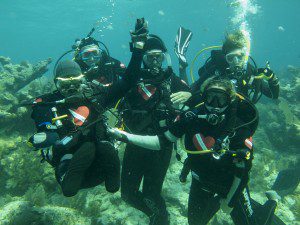 Over the last 15 years or so, I've had the good fortune to travel quite a bit. I've seen some beautiful places and dived many of them, experiencing them above and below the surface. Diving in the keys is always great fun, but I was surprised by what I learned and saw while diving with the crew from Diveheart. I didn't learn anything about diving, with the possible exception of how much divers can do underwater if they put their minds to it, but I learned a lot about the human spirit.
On two trips to Florida: one to see firsthand exactly what Diveheart teaches to divers and dive buddies and to better understand what it takes to dive with Adaptive Divers; and the second trip to shoot video for the new Diveheart training videos, I saw the joy and appreciation for the underwater world. I saw what Jim Elliott told me about and wrote about in the manuals, how scuba diving can literally change lives for people with disabilities.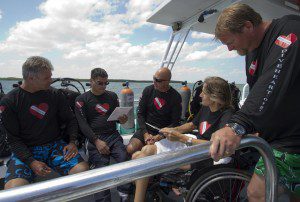 On both trips, I dived with Karen and JC. Karen is an incomplete quadriplegic which means she has impairments in all four limbs. JC has cerebral palsy and is visually-impaired. Karen drives her own van and makes stained-glass artwork. JC competes in wheelchair marathons and uses a GoPro video camera to record his own dives and edits them into YouTube videos. In spite of their physical limitations, neither of them is sitting still.
Over the years, I have groused many times about the effort it takes to scuba dive. You have to carry your own gear and it's heavy and awkward or uncomfortable until you get in the water. And then I watched these two divers and realized how little I have to complain about and how much I have to be thankful for (an appropriate thought for Thanksgiving week). Neither Karen nor JC complained. They were just happy to be out diving and enjoying the opportunity to connect with the ocean.
Talking to one of the volunteers on the video shoot, I asked Wilhelmina Stanton (a Scuba Siren specifically focused on Diveheart) why she gives up her own time to help people with disabilities dive. Her reply was simple: "Wouldn't you want someone to do that for you?"
Indeed.
Spending time with the people from Diveheart, volunteers and divers alike, reminded me of all the gifts I have and to shut up when I start to complain about some minor problem. It also inspired me.
The latest Jackson Pauley/Withrow Key short story includes a character inspired by Diveheart. The story is called Caesar's Gold and follows Jackson Pauley with his nephew Zach, a double-amputee Afghan war veteran, as they uncover the mystery behind a buried vault on Withrow Key, a diary from a long-lost pirate and the disappearance of an archaeologist.
An excerpt: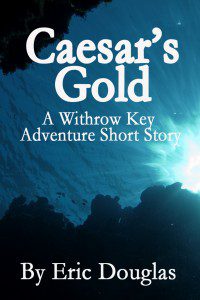 "Can I ask you how it happened?" Lucy asked, a little uncomfortably.
"My legs? It was in Afghanistan. An IED…an improvised explosive device. It hit the Humvee I was riding in. Honestly, I didn't even realize I was hurt until everyone around me started running toward me shouting. They stabilized me and sent me home pretty quickly. Everything was a whirlwind."
"You don't have to talk about it if you don't want to," Lucy said.
"It's okay now. I was pretty depressed for a while. I went through all the rehab and everything, but I felt like I wasn't a whole person any more. But then I met this guy. His name is Jim Elliott. He runs a program called Diveheart and he told me I could learn to scuba dive. I already knew how to dive from my time in the Marines, but I thought that was over. Me and some other guys in the same shape all got in the pool. Jim and a bunch of volunteers let us have fun. I took the classes and got my civilian certification. In the water, it's like the bomb never went off. I can swim and explore. It's fantastic!"
"That's really cool, Zach. You do need to slow down a bit, but I have to say that to all the new divers," Lucy said with a wink.
This is the third of three blog posts about Diveheart and the development of a ground-breaking set of training materials to train adaptive divers and adaptive dive buddies and instructors to learn to scuba dive. Go back and read the first two installments including the beginnings of the Diveheart training materials and the video shoot process for filming training materials. .