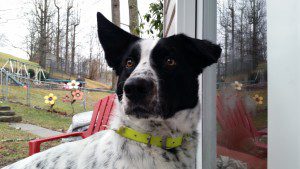 When the hillside on Keystone Drive came down, most of us sat watching, waiting and wondering what would happen next. Homes and a church were destroyed and families were uprooted. The potential threat of flooding led staff at the Kanawha-Charleston Humane Association to order an evacuation of all the animals. The situation was bad enough without losing hundreds of animals to a flood as well.
My wife Beverly called me just before she left work and said "I'm going to stop by there to see if they need help transporting the animals." A little while later she said she was thinking about fostering a dog. Moments after that I got text saying "I'm bringing one home."
We have three cats. No dogs. I've had dogs all my life, so it wasn't a stretch to bring one into our house, but we definitely weren't prepared. While she was picking Vernon up, I was running to the store to get some food and a dog bowl.  (In that rush, I grabbed the wrong food, but that's a different story.) We ended up with a high-spirited border collie mix who was sweet and loving and energetic. Unfortunately, he and the cats didn't quite see eye-to-eye. (Not his issue, he was fine with them, it was our cats' issue.) Since the cats were found abandoned and raised by hand by my wife and step-daughter, we had to take our foster son back to the shelter when they were ready to have him. While he was with us, we did our best to make him feel as loved and as happy as we could.
Like everything, the situation was a learning opportunity for me. At one point, the shelter reported they had fostered 90 dogs and still had 114 at the makeshift home at Camp Virgil Tate. Frankly, I had no idea they had more than 200 dogs there. I knew they weren't euthanizing animals regularly any more, but I guess it didn't cross my mind that that meant how many more were on hand at any given time.
While we weren't able to keep Vernon, I really hope someone with a family can take him. To help out, my wife has paid for Vernon's adoption fees. We don't want that cost to be an impediment to his adoption. If Vernon isn't right for you, go check out his friends. There are lots of them there and they have lots of love to give.
I've heard people say "I don't care what happens as long as the dog lives" when watching a movie. While most of us will never face Hollywood life-or-death situations, you do have the opportunity to make sure the dog lives.
All of them..