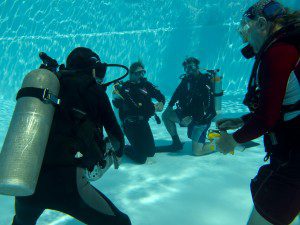 From 1998 to present day, I've developed adult education training programs, mostly for the recreational dive industry. I've participated in photo and video shoots, and written scripts to teach people to use everything from AEDs to Dry Suits and a lot of stuff in between. Working with Diveheart to produce training videos to teach Adaptive Dive Buddies and Adaptive Scuba Instructors how to work with divers with disabilities was definitely a new one for me, though.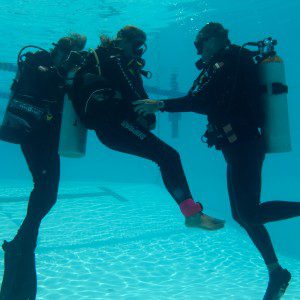 Probably the most important skill a prospective Adaptive Dive Buddy learns is empathy. It takes an amazing amount of nerve for an adaptive diver to trust her Adaptive Dive Buddies to care for her underwater. Day-to-day, a person who uses a wheel chair might rely on others for help, but failure to receive that help does not result in the person drowning. Or suffering through the pain and trauma of a burst ear drum. Or any number of other potential problems.
The second most important skill is handling task loading and stress in the water. As an Adaptive Dive Buddy for a disabled diver, you have to be ready to take care of your own buoyancy and equalization, while handling buoyancy and equalization for the Adaptive Diver as well. With the Diveheart system, you're never alone in the water with an Adaptive Diver, but that doesn't mean you don't have to be prepared for emergency situations.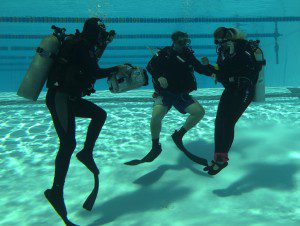 To simulate the potential challenges Adaptive Dive Buddies will face, we filmed (above and below water) divers with blacked out masks or with their legs strapped together and their arms immobilized. There is nothing that will teach empathy more effectively than taking a diver underwater without any ability to swim, control his own situation or even pinch his own nose to equalize. Once you've lived through that once, you will forever have a healthy respect for what an Adaptive Diver does every dive.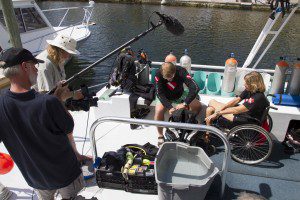 To capture the video and still images we need for the manuals and online training, we brought in two industry experts. There is practically no one better at shooting video in the Florida Keys than Frazier Nivens. He has years and years of experience shooting in the local waters, equally distributed between shooting critters and divers. Ken Berry worked for 15 years as the Executive Producer at PADI and then a few years at DAN and now for himself at LivingWater Media. No one in the dive industry knows more about producing training videos and organizing divers to perform, and repeat, skills above and below water.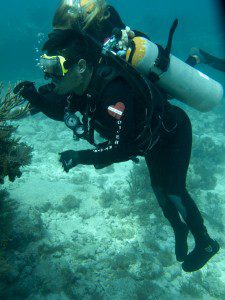 We shot video for a week in the Keys, including a day and a half on dive boats provided by DJ Wood at Rainbow Reef. The staff there was great and really in tune with the needs of Diveheart and Adaptive Divers. Every time you see three divers on the screen, there are at least five people in the water including the three divers, the director and the camera man. Often, there were seven or eight to make sure everything was done correctly and to capture behind the scenes photographs and video at the same time.
One of the most amazing parts of this process was that the on-camera divers were all volunteers. They were all Diveheart Instructors and Adaptive Dive Buddies who donated their time to polish up their skills at a dress-rehearsal and then even more time to spend time underwater being put through the proverbial dive-ringer to perform and repeat skills underwater. They had to do skills over and over, allowing the camera to capture "establishing shots" (wide angle) and then the same scene from medium and then close up to allow for "cut-aways".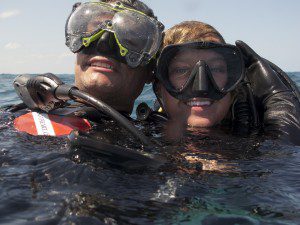 Often, when you are teaching, if you sit back and pay attention, you can get more than you give. This was one of those situations for me. I learned so much from the divers who gave their time to volunteer for this unique organization it was incredible. And I realize just how much every day.
This is the second of three blog posts about Diveheart and the development of a ground-breaking set of training materials to train adaptive divers and adaptive dive buddies and instructors to learn to scuba dive. The first installment Diveheart: Imagine the Possibilities (November 13), discussed the idea of taking Adaptive Divers diving. The third installment (November 25) will include lessons I've learned from working with Elliot and some of the Adaptive Divers I've met through Diveheart.
On November 25, I'll also be releasing a new Jackson Pauley/Withrow Key short story with a character inspired by Diveheart. The story is called Caesar's Gold..