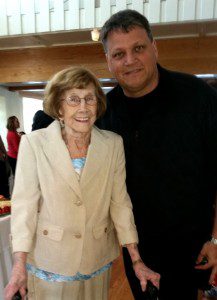 A week or so ago, I went to a friend's birthday party. Margaret Josephine (Cameron) Gill turned 100 on March 31. Think about that for a second. She was born March 31, 1915. World War I began in July of the previous year. The first powered flight was 12 years before. Women got the vote when she was five-years-old.
Margaret is a first generation American. Her father came from Scotland at the age of nine and worked in the mines in Pennsylvania and West Virginia. Margaret was born on Coal River near St. Albans. Later, she married David Gill. They eventually moved to Boomer, West Virginia when David went to work for Union Carbide and they moved into company housing. They had four children, 11 grandchildren and 26 great grandchildren. All of that would be a fine life, filled with laughs, hardships and love. But, it's not the whole story.
At the age of 43, Margaret started working at the Boomer Post Office and continued working for the US Postal Service until she was 75. She was the first woman to become a level 19 postmaster in West Virginia serving in Boomer, Alloy, Eleanor and finishing up her career at the Montgomery Post Office. She also held many state and national offices with the National League of Postmasters and was even selected as the National Postmaster of the Year. Margaret also won national awards while in West Virginia and South Carolina as editor of each state's League of Postmasters newspaper.
She also fought breast cancer three times. The second time, when her doctor told her she would need to have a unilateral mastectomy, her reply was simple. "Fine, but you have to do it by Tuesday. That gives me two weeks to recover before I leave for Russia with my daughter." Margaret traveled all over the country and the world. She now lives in South Carolina with her family.
There were 100 or so family and friends at the party. She met everyone at the door and talked and had a great time. The party officially lasted from 6 to 9. I think Margaret left around 10:15 pm, and that was only because her ride was ready to go. She outlasted a fair number of people younger than her. Realistically, though, everyone there was younger than she was.
This was actually the second 100th birthday party I've attended. My great grandfather turned 100 when I was a teen. Back then, of course, I knew everything. Now that I'm older, and have teens of my own, I realize just how little I actually do know. I think I have a better appreciation of what it takes to make it to 100. It's no easy task.
Personally, I hope Margaret is around another 25 years, although she said she doubts that. Talking to her and watching her laugh with her family, it makes me remember what's really important: laughing, loving, faith, some adventure and having a purpose. Those are the lessons I take from Margaret Gill. And the occasional mixed drink when it's time to relax….