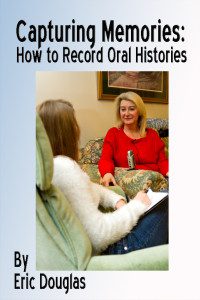 Oral histories are recordings from every day people about life. They are the day-to-day events that don't fill up our history books, but are just as important. The new book by Eric Douglas Capturing Memories: How to Record Oral Histories is now available in softcover and on Kindle to help readers record oral histories with their own families.
"As a journalist and author, I've conducted hundreds of interviews. Most of it was trial and error. I learned how to approach the interview and what questions to ask by doing it," Douglas said. "After recording nearly 100 oral histories, I realized the interview is probably the hardest part of the process, so I decided to let readers benefit from all the mistakes I've made."
The book covers: Research, Interviewing, Getting Releases, Recording the Interview, Telling a Story and Editing. It also includes a foreword on the importance of collecting oral histories by the Editor of Goldenseal and West Virginia State Folklife Director Stan Bumgardner.
Capturing Memories: How to Record Oral Histories will guide you through the process from choosing your goals, writing advance questions and making the recording using your smartphone, a recorder or your computer. It is available in softcover through all major online retailers for $9.99 and in Kindle format through Amazon for $5.99.
Eric Douglas has a degree in Journalism from Marshall University and has worked for newspapers and magazines for more than 25 years. He created international documentary projects on the changes in Russia and the Lobster Divers of Honduras. In 2013, he produced the oral history documentary West Virginia Voices of War. In 2015, he joined forces with FestivALL to record oral histories of Charleston-area residents. On April 14, he will present the Creators Talk: Capturing Memories: How to Record Family Histories and on May 26, he will show a collection of excerpts from the FestivALL recordings called Creators Present: Memories of the Valley: FestivALL Oral Histories. Both presentations will be at the West Virginia State University Economic Development Center.
You can find more information on the book Capturing Memories: How to Record Oral Histories on the book page. 
For more information on the Creators Series at WVSU Economic Development Center, visit the website at www.wvsuedc.org and click on the Creators tab. All workshops are held at the WVSU EDC located at 1506 Kanawha Blvd. West in Charleston. You can also call at 304 720-1401 or email Jaime at jrinehart@wvstateu.edu.