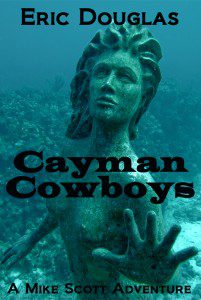 In 2004 and 2005 I spent two weeks on Grand Cayman conducting training for local course directors and instructor trainers. Since I was working I spent time with people who lived on the island. I got a behind-the-scenes look at the island and the dive culture. Those two trips were the inspiration for the novel Cayman Cowboys.
The phrase "cayman cowboy" has a lot of negative connotations. For many people, it is the money runners, Wall Street wheeler and dealers and cocaine cartels from the 1980s that operated out of Cayman to keep their money out of the government's reach. For others, a Cayman Cowboy came to mean playboy dive instructors who drank hard every night and tried to sleep with all the young female tourists.
My Cayman Cowboys were a little bit different. This excerpt explains it:
"So is that what it means to be a Cayman Cowboy?" Bailey asked. "Saving damsels in distress and drinking all the beer at My Bar?"
"Yeah, in a way. Being a Cayman Cowboy is about doing things your own way and not worrying about the consequences," Mike said for the first time since Kelly began his story. "It's also about honor and integrity. Doing what you know is right, regardless of what someone else tells you to think. What Kelly doesn't mention when he tells this story is that he thought I was right and was working on ways to smuggle her out of town and to safety while I was gathering information. He was in, hook line and sinker. We both were.
"We had our fair share of fun and were in and out of trouble, but the real spirit of being a Cayman Cowboy is always sticking together and backing each other up. If we thought our buddy was messing up, we would tell him privately, but if someone else said the same thing in public, they would have to deal with all of us," Kelly added.
The novel Cayman Cowboys is about adventure and excitement. It is also about the environment, development and striking a balance between the two. All the while, it is set on a beautiful island, home to some of the most amazing diving anywhere in the world. The backdrop for most of the story is the dive resort Sunset House, a destination operated by divers for divers. Sunset House's iconic My Bar has been voted the best bar in the Caribbean on numerous occasions. The dives described in the novel are all dives you can make on any given day around the island—well okay there is one night dive that might be tough to set up, but other than that they are all there.
The original publisher of this novel had a really out-of-touch price structure. Unfortunately, I had no say in the matter. With this second edition, the prices for both the Kindle ebook and the Print edition are less than half of what they were. The new Kindle ebook is $3.95 and the print version of the novel is $9.95. Both versions also include the first chapter of Flooding Hollywood as an extra bonus.
Read the full book description or get your own copy and start your Cayman adventure!.