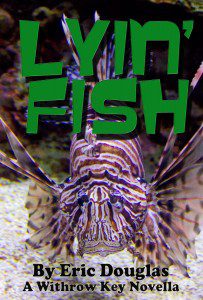 The ninth story from Withrow Key is the novella "Lyin' Fish". It is now available in print and on Kindle. Lyin' Fish is doubly special because it features an appearance from long-time fans of the series Greg Holt and the mermaids of ScubaRadio.
"The crew from the nationally-syndicated talk radio show ScubaRadio comes to sleepy Withrow Key for a lionfish rodeo, but immediately Jackson Pauley feels something isn't right. "Greg the Divemaster" Holt can barely dive. When Jackson spears a lionfish, Greg grabs it and gets stung. The radio show is a disaster. When Duffy, the local bar owner, goes missing Jackson, Littlebear and Zach jump into action to unravel the mystery and save their friend."
If you've missed the earlier Withrow Key stories and want to read the entire series leading up to Lyin' Fish, check out Tales from Withrow Key..