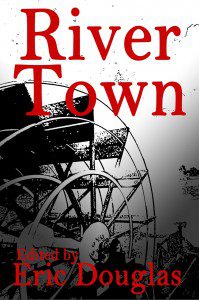 The following is the foreword of the new book River Town. It explains how I created the book and corralled five other writers in the effort to put this unique book together.
I've been dreaming about putting together an anthology like this since I was a kid. Mom let me join a book-of-the-month club when I was 12 or 13 and I looked forward to what would arrive by mail each month. One day I received a book edited by Robert Lynn Aspirin and I was immediately fascinated. The book was Thieves World. Aspirin and a group of friends came up with a set of shared characters in a single location. It was the coolest thing I'd ever read. What made it so interesting was seeing the same characters offered up by different authors.
Every storyteller has his own style, her own approach, and a unique way of operating a character. To see the same characters driven by different people was like seeing the same person from other perspectives. The characters' personalities were fuller and better developed. I got to know them better than I could have if they were all written by one author. I was hooked.
Flash forward 30 years. I returned to my hometown after being away for nearly 14 years and I decided it was time to write about "home." I've written several books and short stories, but none about where I grew up. Through a friend-of-a-friend meeting, I met one of my fellow authors on this project. I immediately saw the possibility of combining a shared anthology with home and a new friend. Elizabeth Gaucher and I started emailing, and slowly it expanded to a few others in the mutual network. We talked to a few other writers beyond the ones included here. A few declined, saying they were too busy or not interested. A few others didn't manage to respond to the emails. That's the nature of the game.
There were some fits and starts, too; the occasional "discussion" about whether a character would or would not do something one writer included in her story. I kept telling the writers that that was the fun part of this process. I'm not sure if they believed me or not, but I'm very proud of what we accomplished.
What you have in your hand is a West Virginia story. It's about a place that may've/sort've existed just before the turn of the last century. West Virginia is known for coal mining today, but just after the Civil War it was all about the river. West Virginia's mountains were much too rugged for easy transportation. The only way to get natural resources to market was the river. Any coal dug from the ground, timber felled, or salt pumped out of wells had to float down the river to make it to market. By 1875, a series of locks and dams made the Kanawha River navigable year-round, and those locks spawned towns up and down the river. Steam-powered, sternwheel-driven river boats plied their trade, bringing people and supplies in and coal and natural resources out.
Although 
River Town
is imagined where Charleston is today and some historic references are made, there is a lot of fiction in the stories you are about to read as well. This isn't the gold rush or the Wild West, but some of those same stories were played out right here along the banks of the Kanawha River. You can still see an occasional sternwheeler heading up the river around Charleston from time to time, although most of them are now privately-owned pleasure boats. Charleston is still a center of commerce for the state, as well as the state capital. But if you let your eyes lose focus when you watch the river, and allow yourself to daydream for a minute, you might just see the same River Town that my fellow writers and I saw as we wrote our individual stories for this project.
Think of
River Town
itself as one more character in a fascinating cast. Now, sit back and enjoy these tales of romance, friendship, danger, magic, loyalty, mystery, and courage!
Other blog posts about River Town