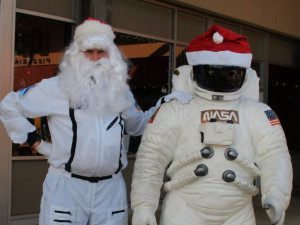 Prologue
Everything was orderly chaos as crews worked feverishly to get the packages ready for delivery. Every year this process seemed to grow bigger and bigger. And that was because it did. The work crews devoted themselves to coordinating the packages and getting them on the right conveyor belts to make sure everything ended up in the right place at the right time.
The logistics of shipping and delivery of the packages were simply overwhelming, or would be if it weren't for the technology and dedication of the people of Eridani. The project started out small, but over the years it grew in scope and complexity. Now, it was something the entire planet believed in.
One man was at the center of it all. These days, everyone simply called him Father. They regarded him as the one who brought meaning and purpose to their lives. He gave them something to believe in, something to do with their knowledge and power. At the same time, he gave them a greater understanding of themselves.
"Father, are you ready? It is almost time to begin making deliveries," Father's assistant told him from the doorway. "You need to get suited up."
"I will be along in a moment, Samuel," Father said as he looked up from his desk. He had been looking through memorabilia of his years making the deliveries and remembering how it all began. When Father didn't immediately stand and follow Samuel toward the staging area, Samuel stepped into his office.
"Is everything all right, Father?"
"Yes, yes. Everything is fine, Samuel. I was just thinking about how much this world has changed, and how much I have changed, since the time before the promise."
Samuel knew Father was being modest by referring to the events that changed Eridani in those terms. History books all told of Father's explorations and trips to the other world that paved the way for what they were doing today. He knew that Father's bravery and dedication had given the Eridanians a purpose and a peace they had long since lost. He saved them from internal decay that they only discovered once Father exposed it.
"I've read all about your discoveries and your time on the other planet, Father. You were amazingly strong and brave. I am honored to be able to serve you."
"No, Samuel…no. You don't serve me. Together we serve one who is greater than ourselves. Please do not ever forget that. You help me, quite a bit in fact and I am grateful for that, but don't ever think of yourself as serving me. I am not worthy to be served."
"I am sorry, Father," Samuel said at the rebuke, his head down.
"Samuel, come here and be comfortable. I didn't mean to hurt you. I truly don't think I could do any of this without you and your help. I just meant that the idea of being a servant to another man is part of what caused the problems on our world to begin with. We spent all of our time worshipping "great" men and then the technology they brought into our lives. We spent our time in leisure, with no challenge and nothing to live for. Soon, that ate away at our lives and our sense of identity. We lost who we were," Father explained. "Besides, I'm not sure the way the history books tell it is exactly the way the great project began. Of course, they want to portray me as a great adventurer who understood that something was wrong here on Eridani and who sought out a way to fix it. While that is flattering, the way I remember it is a bit different."
"How so Father?"
"I remember myself as a scared kid who didn't know what he was looking for. I was bored and wanted something else to do. That was about it. What I discovered, I discovered through no effort on my own. It was meant for me to realize it. I know that now," Father explained. "I made a promise. And this is how we keep it."
"Can you tell me more?"
 Chapter 1
On the surface, everything was clean, bright, shiny and new. For Nicholas, the inside was the problem.
Nicholas lived on Epsilon Eridani. After thousands of years, fighting wars and struggling with problems of nationalism, pollution and economics, the people of his planet finally realized they must come together for a common good before they destroyed themselves and everything they built. Now, 500 years after "The Great Crisis" everything should have been fine. Nicholas' people had every convenience. War was a thing of the past. So was starvation and pollution. Still, for Nicholas there was something missing. He just didn't know what.
Walking along the promenade near his residence, Nicholas was bored. His world, and literally dozens of others, were at his finger tips. He was headed to the transportation center to get away. He knew he needed to shake himself out of this rut. Where would he go this time? It wasn't like he had anything else to do. Food, clothing, a home and entertainment were all provided for him.
For more than 100 years, his people had the ability to transport themselves wherever they wanted to go on their own planet simply by pointing to a map and stepping onto a platform. More than 50 years ago, scientists expanded that system to travel to other planets in the universe. Some were marked as "off-limits" off course, for safety reasons. They didn't have suitable air, food or water to support life for Eridanians, but everywhere else within 100 light years was available to him. Sometimes Nicholas felt there were too many choices.
Some of Nicholas's friends had taken to making a game of travel. They would step to the control display in the travel hall, close their eyes and simply step forward, reaching out with their hands until they activated the system and disappeared. The travel platform automatically altered their clothing to fit the destination.
Before leaving on their adventures, Nicholas's friends would make sure they had the return key with them. If they got somewhere they didn't like, all they had to do was squeeze the key and they would come home. Most of the time, wherever Nicholas's friends ended up wasn't nearly as exciting as they imagined it to be and they came home quickly. By mid-day, most of them could be found lounging around the promenade waiting for the day to end.
Entering the entertainment complex, Nicholas saw Anders and Tate waiting on him. The building itself was enormous, able to fit thousands of Eridianians at a time. It had access to sports, games, and every popular form of entertainment. The entry way was a soaring example of glass and polished metal, gleaming in the climate-controlled perfection of the planet. The threesome stepped to the travel complex.
"Where should we go today?" Anders said by way of greeting.
"I think we should relax by the beach on Areda. I want to swim and enjoy the suns," Tate chimed in, mentioning a planet 20 light years away. "I met a girl there last week. I want to see if she's around."
"I don't really care where we go. Let's just do something. I'm tired of this place," Nicholas said.
The three young men had similar features and appearances. Tate was slimmer, but just barely, and Nicholas had slightly darker hair. All of the people of Eridani looked very much alike. Their health system had long ago found ways to remove genetic mutations that caused birth defects and other problems, making death and disease a thing of the past. They were all, men and women alike, about six feet tall, fit and healthy. The three were born within a week of each other, 20 years before, in the same hospital. They grew up together and were friends throughout school.
"The beaches of Areda it is then," Anders agreed. "I'd be happy to hang out on the beach for a few hours. I heard a couple of the girls from school were heading that way as well. Maybe we can meet up and have a party."
"Beach time it is!" Tate said.
Stepping into the control station, the computer recognized Tate immediately using a DNA scan. In front of his eyes, all the worlds available to him immediately appeared, three-dimensionally floating in the air. He selected a world simply by touching it gently with his hand. From there, he turned and manipulated the planet until he found the exact location he wanted to visit. The computer included a number of common destinations on every planet because instant access to anywhere in the known universe ended up being overwhelming. The Eridani liked to travel, but for most of them getting off the beaten path was not necessary. They liked all the conveniences of home, too. There were 10 control units in this part of the entertainment complex, each capable of transporting a citizen to their destination in seconds. There wasn't a line yet, although at times the press of people wanting to go away would cause short delays.
Tate selected the planet Areda quickly and then spun it around until the beach he had visited before was highlighted. The system remembered places he visited before making it easy to return. With a practiced hand, Tate selected the beach he wanted to visit, turned and smiled at his friends and then disappeared. He was on his way.
Anders stepped up next and followed Tate's steps, quickly selecting the beach and whisking himself away for a day in the sun.
Alone, Nicholas stood still for a moment. His shoulders slumped as he stared at the dormant unit. He knew his friends were waiting on him on the other side, already in their swim suits and ready to get in the water and enjoy the day. He knew there would be other friends there. He might just meet a girl as well. Still, Nicholas didn't feel the enthusiasm his friends had. The location was beautiful, the water warm. Everything was perfect. That was the problem. It was too perfect.
More out of a desire not to disappoint his friends than any real desire to go to the beach, Nicholas stepped to control center and watched as the planets appeared around him. He stepped to Areda to follow his friends, but he didn't raise his hand to select the planet. He simply stared at it for a moment. He stepped past it, literally passing through the hologram in front of him and looked at the other planets hovering in the air in front of him. There were so many options and so many places to visit on each world. Why did they keep going to the same places over and over again? Nicholas wanted something more, but he didn't know what "more" was.
"What are you doing?" Nicholas said to himself. "Go to the beach and have fun. You are making this harder than it has to be."
Nicholas had moved a few feet away from his chosen planet in his meanderings, so he stepped back toward where he wanted to go and reached out his hand to select the beach.
"Hey man, what's taking you so long? There are people waiting. If you don't know where you want to go, step out of the way and let others travel. You can get back in line when you've made up your mind," a voice said.
Nicholas looked up with a start. He had been lost in his thoughts longer than he realized. A line had formed at the entrance to the transportation control station. Without realizing what he was doing, Nicholas reached out and selected a planet in front of him, quickly touching a destination as well. In Eridani society, one tried not to inconvenience others around them or to shake up the status quo. He was mortified that he had delayed others around him.
Glancing back from the people waiting to the control system, Nicholas looked at the planet he had just selected. His eyes grew wide when he realized he wasn't standing where he thought he was. He wasn't in front of Areda at all. He had just selected a planet called Earth. There was nothing lit up on the planet at all. It was available to visit, but only because it was not considered a threat. The planet was considered much too primitive to be of any interest to the average Eridani. Scientists had been there many times, but no one Nicholas knew of.
Nicholas winked out, heading toward Earth. For some reason he wasn't scared.
Chapter 2
Nicholas was disoriented at first, confused by his surroundings. Earth was like nothing he had ever seen before. No technology. The wind and the heat told Nicholas there was no climate control. The people, the animals, the smells all around him, nearly overwhelmed him. It was glorious.
And then he noticed the clothes on his back and the sandals on his feet. The robe he wore was rough wool and it itched. The sandals were some sort of leather with thin straps that wound up his legs. He was physically uncomfortable for the first time in his life.
Along with exchanging his clothes for those appropriate to the setting, Nicholas could instantly understand the language the people around him were speaking. Still, he wasn't completely comfortable following their conversations. The computer told him the meaning of the words, but understanding what they were talking about was another thing all together. He caught snippets of conversation, fragments or sentences, but he had trouble following the commotion of the day's activities. Seemingly, the village he landed in, called Nazareth, lived on subsistence agriculture and small animal herding and that was about it.
Nicholas wandered about the village most of the day, watching and listening to conversations. A few times he heard whispers. Strange rumors really. A woman, engaged to marry a man, was pregnant. She claimed she was a virgin. But that obviously didn't explain how she was pregnant, or who the father was.
This was one of the times Nicholas struggled to understand. He knew the words they were speaking, but the idea of a virgin giving birth didn't make sense. He had to be confused or misunderstanding something. Nicholas didn't understand what the big deal was. His people had long since moved beyond monogamy and didn't rely on sex for reproduction at all. That was handled in a lab. Lovemaking, sex, coupling, whatever you called it, was strictly for pleasure.
After a while, Nicholas found himself near the edge of town. Judging from the stacks of wood and the tools hanging in a shed beside a home, Nicholas realized the owner was probably a carpenter. He neared a window and overheard a conversation between a young man and woman.
"Joseph, I am sorry for the shame I have brought to you. I have not betrayed you, you must believe me. As I told you, an angel visited me in the night. He spoke to me in my dream and told me that I was chosen to give birth to Immanuel, to god with us," the woman explained. "I am carrying a child given to me by the holy spirit of God himself. I have not been with another man. I am promised to you."
Joseph stood still and watched his fiancée explain what had happened.
"The angel told me that I would give birth to a son. He said we will name him Jesus. I didn't believe it when he told me it would happen. But I am now with child. I have known no man. You must believe me."
Nicholas listened to the impassioned speech by the young woman by the window in the carpenter's home. He edged closer to the opening so he could see what was happening. The woman kneeled on the floor before her betrothed, waiting for him to say something. Waiting for him to react. Nicholas knew enough about the society, probably implanted in his brain by the teleportation system, to know the man had every right to send her away and the people could stone the woman to death for her unfaithfulness. It was a hard, cold society in Nicholas's eyes.
Nicholas watched, wondering what the man would do. He thought about what his own reaction would be. Would he, could he, interfere? Could he let these backward people stone the woman for something his people had long since moved beyond? He started to move forward, prepared to shout, to distract everyone and steal the young woman away. And then he was surprised.
Joseph kneeled down in front of the woman he was engaged to marry. He took her hands in his own and kissed them.
"Mary, Mary, my dear Mary. When I first heard that you were carrying a child, knowing that we had not lain together and that you were promised to me, my mind told me to send you away. I wasn't going to destroy you and call you out in front of the village elders, but I didn't want to see you ever again. I was going to tell your family to take you far away from me," Joseph said. "And then last night, God sent an angel to speak to me as he did to you. The angel told me of God's plan and that God wants us to be married. He told me that the child is of the Holy Spirit and that the child is the Messiah."
Nicholas stood mesmerized by what he saw in front of him. He hadn't heard of the God these two spoke of, but he suddenly wanted to hear more.
"In my dream, I remembered the words from Isaiah, the prophet. He said 'Therefore the Lord himself will give you a sign: The virgin will be with child and will give birth to a son, and will call him Immanuel.' When I awoke from the dream, I knew this was meant to be. I knew it was God's plan," Joseph said, looking directly into his soon-to-be wife's eyes. "We will be married. And I will raise the child, the son you carry, as my own."
Nicholas stumbled away from the small home, surprised and overwhelmed by the emotions coursing through his body. He had no idea people felt like that, spoke like that to each other or acted with the nobility and honor he had just witnessed. He knew no one on his world felt anything like that. They were too worried about themselves, about their entertainment. They didn't worry about others.
Walking toward a hill, Nicholas stepped behind a tree and then looked back to see if anyone was nearby. When he was sure he was alone, Nicholas triggered the device in his pocket that returned him to his own world.
In a flash, Nicholas was standing at the entertainment complex and the sun was setting on his home world. The return was almost as disorienting as when he first left and landed on Earth. Things were different. Not in the world around him, but in the way he saw it. He wondered about the lives he had just witnessed and what would happen to the young family on Earth. Suddenly, the world he lived in seemed thin and weak. He had long felt uneasy with what he termed "civilization" and "culture" but now he knew why. Or at least he had an idea why. They were missing something. He wasn't quite sure what that something was, but he knew they didn't have it all.
Chapter 3
The next morning, Nicholas woke feeling…different. He couldn't explain why, but something in him was excited for the first time in a long time. He checked his communications panel at home and found a string of messages from his friends wondering where he was, what happened to him and if he was okay. They told him they had a great time on the beach, met girls and had a huge party. They were planning to go back the next day, today, and do it all over again. They planned to meet at 10 am at the transport center and expected to see him there. Nicholas had no interest in meeting up with his friends. He planned to go back to Earth. He couldn't say why. In fact, he had no idea why he wanted to go back to that desolate, backward, primitive world, but he knew that was what he was going to do before he got out of bed.
His friends were going to be a problem, though. If he ran into them, they would have questions and would be offended if he didn't join them. He knew his only choice would be to leave early, get to the transport center and leave before anyone got there that might recognize him. He jumped on the shuttle and tried to keep his head down. He felt like he was sneaking off to do something wrong. At the same time, he felt freer and more alive than he ever had in his life.
Nicholas arrived at the entertainment complex an hour before his friends' planned arrival. He doubted any of them would be on time anyway. He knew what they did the day before and suspected they wouldn't be moving quickly that morning. Walking quickly toward the transportation controls, Nicholas thought he was home free. He didn't see anyone around him and he could make his escape. He pondered for a moment, while he walked, that he was thinking of it as an escape. It wasn't like he was doing anything wrong. Not at all. He just didn't want to explain his actions to anyone.
He almost made it when he heard someone call his name.
"Nicholas, wait up!" It was a female voice. Stopping in mid-stride, it took Nicholas a moment to recognize the young woman who called out to him.
"Oh. Hi, Claudia. What are you up to?" Nicholas said, looking around nervously. He didn't want to be rude, but he wanted to keep moving forward and get back to Earth.
"Anders and Tate told me you guys are going to have a big party on Areda and I'm coming along. A bunch of us are going to be there. You're coming, right?"
For a moment, Nicholas hesitated. He had liked Claudia for quite a while. They had gone out some, and she was beautiful. He enjoyed spending time with her, but even with her Nicholas felt like something was missing. There was no passion, no love, no desire to "be" with her at all costs. Until yesterday, he couldn't have put the problem into words, but watching Mary and Joseph talk through the window, it clicked with him what he was missing. He wanted that sort of relationship in his life. He was beginning to think it wasn't possible on Eridani.
"Yeah, sure, I'm going. Of course!" he lied. He didn't want to hurt her, but he didn't know what else to say.
"Great. I was hoping you would be there. I haven't seen you in a couple weeks and I was hoping we could spend some time together."
"That sounds good, Claudia. But listen, I need to take care of one thing before I come to Areda. I have to make one quick trip and then I will shift over to the beach party. That's why I'm here early," Nicholas said. In his mind, he imagined he could check in on Earth, walk around for an hour or two, and then join up with his friends. He was sure he would get there before the party got going.
"Oh, okay. Do you want me to come with you? I woke up early and came on down. I thought I would hang out in the spa for a little while before meeting the rest of the gang to go to the beach, but if you're doing something interesting, I'm game."
"Nah, it's really not that interesting. Just something I want to check out. You go on to the spa and I'll meet you on the beach in a little while," Nicholas said. He wasn't sure why he didn't want Claudia to come with him, but for the moment he wanted to keep Earth for himself.
"All right, if that's what you want," she said, stroking her hand on his arm and giving him a look that told him she had things in mind he would enjoy. The temptation to forget about Earth for the day rose up in him for a moment, and he almost changed his mind. Almost.
"You go on. I'll see you in a bit," Nicholas said, giving her a big smile. She smiled back and then started to walk away.
Nicholas quickly darted into the transportation center and stepped to a vacant control panel. He wanted to get away quickly before he saw anyone else, or Claudia tempted him further.
Claudia took a few steps and then turned back to say something to Nicholas, but he was gone.
Chapter 4
The familiar chill through space had Nicholas slightly off balance when he landed on Earth. Most times he walked calmly to the control panel and selected a destination. This time however, he almost leapt to the controls and quickly made his selection. He didn't have a chance to breathe before he was whisked away.
The disorientation continued when Nicholas realized he was in a different place on Earth and it was night. Nicholas looked around in a half panic until he patted himself down and realized he was wearing the same clothes from the day before. He reassured himself the return trigger was inside his robe. If something was wrong, he could go home in a flash.
Off in the distance, he could see lights—torches—from a town. It looked bigger than Nazareth. He realized he was somewhere else on Earth. Nicholas stood on the side of a hill. Not far away, he could see some campfires burning with men close by. He could hear, and smell, sheep baaing and shuffling. The men—Nicholas realized they were shepherds—were talking and singing quietly to the sheep to keep them calm and close.
Nicholas decided to make his way to the city and see where he was. He wanted to skirt the shepherds as well. He didn't want to disturb them or their flock. He was afraid they might think he was trying to steal a sheep and hurt him. Nicholas made his way down the side of the hill, doing his best to move quietly and avoid falling and hurting himself. Without warning, a light appeared in the sky hovering just above the shepherds in the field. It looked like a man in the light, but Nicholas couldn't be sure. Nicholas stopped in his tracks and stared at the man. He wasn't afraid; he had seen more amazing things than that on his own planet. At the same time, his heart raced and he couldn't look away.
The man in the light spoke. Nicholas could hear it as clearly as if the man were inside his own head. The voice was great and commanding, but quiet at the same time. It wasn't shouting or urgent. It simply was.
"Fear not: for, behold, I bring you good tidings of great joy, which shall be to all people.
"For unto you is born this day in the city of David a Savior, which is Christ the Lord.
"And … you will find the babe wrapped in swaddling clothes, lying in a manger."
When the man finished, he was joined by hundreds more flying, glowing beings. As one they said,
"Glory to God in the highest, and on earth peace, good will toward men."
In spite of the first man's urging to not be afraid, the shepherds were overwhelmed and dropped to the ground in fear. They were completely overwhelmed by what they saw. Nicholas didn't understand why, but he had the same reaction. His knees buckled and he fell to the ground.
Moments later, Nicholas realized the light in the sky was gone and the men and their sheep were alone on the hillside. He got to his feet and started walking toward the shepherds' fire. He wanted to see what they knew about the lights in the sky and the men in the air.
Nicholas heard the men talking. They sounded disoriented and confused, but they also sounded like they understood the presence of the men in the sky better than he did.
"Angels have spoken to us!"
"We must go to the city and see the savior."
"The angels have commanded it!"
After a few moments of discussion, a group of the shepherds decided to go to the city, they called it Bethlehem, and find the baby the angels described. As they walked away from their camp, Nicholas fell in step with them and they accepted him without looking at him or worrying who he was.
Entering the small town the group made its way to the poorer side of town. It was downwind where the stables were. The angel mentioned the baby would be lying in a manger and the men instantly knew that meant a stable. Nicholas wasn't sure he understood the angel's message. It certainly didn't make sense for a newborn baby to be kept in a manger suited for an animal—especially not a baby worthy of having angels announce its birth. The men never hesitated.
"I'm never this sure of myself when I'm walking in places I know and have visited before," Nicholas said out loud.
"What was that?" one of the shepherds asked, looking at Nicholas for the first time.
"Ummm, well, umm, that angel was amazing, wasn't it?"
"I have never seen the like myself, and I think we will see something even more amazing when we reach the baby the angel foretold," the man said.
"What is the name of this town?" Nicholas asked.
"It is the town of Bethlehem, the city of King David," the shepherd said.
Before the man speaking to Nicholas could take another look and realize he didn't know him, the shepherd leading the troop stopped in front of a barn door. It was a cool night, but the barn doors were open wide. The shepherds could feel warmth and see light coming out of the structure.
As Nicholas stepped to the opening, he could see it wasn't a fire inside giving off its energy, but rather the entire structure appeared to glow. Other shepherds and townspeople were gathered together inside the barn, packed in closely together, yet everyone seemed to be quiet and still. There was no jostling or arguing.
Someone had spread straw over the dirt floor and the rough cut timbers framed the young family at one end. Animals and people lined the sides of the barn and Nicholas could hear a faint humming in the air, like a mixture of music and power.
As the shepherds made their way to the front of the room to see the baby, the hum grew in intensity. Nicholas focused on the newborn baby wrapped in blankets and lying in a manger, something he "knew" was intended for newborn oxen and donkeys—lowly pack animals in the world outside the doors.
Reaching the front of the room, Nicholas and the shepherds kneeled to the ground. No one told them to kneel, they just did it. He didn't know what was going on, but he knew in his heart and in his mind, this baby was someone special. After a few moments with his head bowed, Nicholas looked directly at the infant child. It couldn't have been more than a few hours old, but the baby was looking around the room, wide-eyed as if it was taking everything in. For the merest moment, Nicholas felt as if the baby looked directly at him. It shook him deeply as the music in his ears grew to a crescendo, almost overwhelming him. It was gone as the baby's gaze shifted around the room.
It was only then that Nicholas looked up at the baby's parents, seated just behind the baby, and off to each side. They were wearing similar robes to the others around him, indicating that they weren't rich or powerful. The mother kept her head down, tired from the physical exertion of the birth. Nicholas wondered silently if all mothers were forced to show their newborn babies off like this.
Nicholas looked at the father and, in spite of the darkness in the room, thought he recognized the man. Was it Joseph, the man he saw the day before? How could that be? They were in another town and Joseph said nothing about having another wife. Maybe that was why he was so understanding to Mary when he spoke to her, he thought. He was tired and needed a shave, like he had traveled a long distance. It couldn't be the same man, they must just look similar.
A movement in Nicholas's peripheral vision indicated the mother moved. She raised her head. Nicholas turned to get a good look for the first time and was stunned to realize it was Mary. Just the day before, she spoke of being pregnant. She couldn't have been with child for much more than a month at that point; she wasn't even showing. Still, here was the same woman, and the same man Nicholas had to admit, that he saw talking about her pregnancy and their marriage. Nicholas's eyes locked with Mary for a moment and she smiled. His eyes darted to his right and found himself looking directly into the eyes of the father, Nicholas now realized it definitely was Joseph. How could this be?
Nicholas found himself staring at the infant. He remembered the young couple's words about virgin births, messages from angels and talk of the "Messiah" and "God with us". Nicholas didn't believe in God. His culture had long since developed past any fear of some mysterious creator God. They left that mythology behind hundreds or thousands of years before. Looking around the room, and thinking of the angels he witnessed just a few hours before in the hills above Bethlehem, Nicholas was confused and overwhelmed. He didn't know what to think.
Without thinking, Nicholas stood and raced from the barn. He had enough self control that he waited until he made it outside before triggering the return key and taking himself back home.
Chapter 5
Nicholas woke in his own bed, in his own home on his own world. And he had no idea where he was. Nothing seemed familiar. He had no idea how he got there.
Rubbing sleep from his eyes, Nicholas tried to remember what had happened. Slowly, the room, and the day before, came into focus. He remembered angels in the sky. Before yesterday, he didn't know what an angel was, but he did now. He remembered walking and talking to the shepherds as the approached the small town. The baby in the manger. The animals all around. Mary and Joseph.
Two days before he saw Mary and Joseph talking about her being pregnant and a day later she had given birth. Did things happen that much faster on earth? Did they have a one day gestation? Or was something else at work? Nicholas realized he was going to have to do some research. He knew the Worlds Database should have biographical data on any planet they were able to visit.
He needed to find out about "angels," too. Were they an alternate life form on Earth? He knew not every life form looked "human" but most of the people on Earth appeared to be the same as Eridanians. In fact, they appeared to be from the exact same genetic mold. But who were these flying, commanding, powerful beings? Considering the way the shepherds reacted to them, they weren't exactly commonplace, he knew that much for sure.
Nicholas rolled over to access the database and saw his message light blinking. He saw he missed calls from Anders, Tate and Claudia. His friends were beginning to wonder what happened to him. Listening to them, they contained the typical "Hey man, where are you?" and "We're having a great time, when are you coming?" notes. Later in the day, there were a couple more saying "You're missing a great party, man. Are you feeling okay?"
Then he got the final one from Claudia.
"I know we never talked about it, but I thought we had something special. I thought you liked me, too. I know most of our friends don't stay together, but I thought things with you were different. If you don't want to be with me, that's okay I guess, but I wish you would tell me. Have some honor and be a man. I know that's a rare commodity, but I thought you had it. Tell me to my face. Don't just disappear or stand me up."
Nicholas slumped back in his bed. Great. Just what he needed. He was trying to figure this out and now Claudia was upset. He didn't mean to be gone all day. It just happened.
And then he thought about what she said. "Have some honor and be a man." He thought about Joseph and Mary. At the time, he was impressed by Joseph and his reaction to a situation he didn't understand. The man believed his fiancée and trusted her. He realized that was the definition of honor and being a man. At the time, he had wanted to be like that.
His first thought was I wish Claudia would give me that much credit. And then he realized he hadn't told her anything. He hadn't given her a chance to trust him or not. As far as he knew, there were no angels appearing to Claudia in a dream.
He called her. He was going to tell her what was going on and ask her to believe him, or at least trust him. She didn't answer. He left a short message and broke the connection.
Sitting up fully for the first time, Nicholas looked at the clock. It was well into the afternoon, the day after he left for Earth the second time. He slept most of the day away. That was why Claudia didn't answer him. She must have gone out. Or, since he hadn't called that next morning, she was even madder.
Pulling up the Worlds Database while he got some food, Nicholas searched for Earth. The database had only the barest mention of the planet. Nothing about the culture, the people or the planet's history.
"That's weird," he said. "Any planet we can visit should have a full work up for safety. I wonder if something's wrong with the database."
After spending more time digging through the archives and finding nearly nothing, Nicholas realized the day was over and he hadn't left his room. Just then, he received an alert telling him that a call was coming in. It was Claudia. He reached to the touch screen to receive the call.
"Hey Claudia, what's up?"
"I got your message," was all she said.
"Oh, well, thanks for calling me back. Listen, I'm sorry about not making it to the party yesterday. Something came up and time got away from me."
Silence.
Remember honor and Joseph, Nicholas thought to himself. She doesn't know what's been going on.
"I know you're mad, but I want to tell you about what I've been doing. I hope you'll hear me out."
"I'm listening."
Nicholas quickly explained how he accidentally ended up selecting Earth when he, Anders and Tate were going to the beach. He told her about the conversation between Mary and Joseph. Then he explained how he went back the second time and what he saw, how the baby was already born and about the angels in the sky.
"I don't really know what's going on, but that's the truth. I didn't mean to stand you up. I just wanted to follow up to see how things were going with the young couple. For some reason, they just really stuck with me. I meant to come see you. I wasn't interested in the party, but I did want to see you," Nicholas explained, hoping that would help. "It seems like time moves differently on Earth than it does here."
"While you were talking, I looked up Earth. There's almost no information on it at all," Claudia said.
"I just found that out a little while ago myself. I was just about to go down to the entertainment complex and see if I can find out anything else. Do you want to come along?"
"I just came home and they were closing the travel portals down for maintenance. People could come home, but no one could leave."
"Maybe they are fixing the glitch with Earth. Meet me there in the morning and we'll see what we can figure out together."
"I don't know…"
"I understand. You're mad and you're not sure you trust me. I could be making all this up. I get it," Nicholas said. "Sleep on it and meet me at the entertainment complex in the morning. I'll show you Earth and you can make your decision from there. How does that sound?"
"We'll see. I'm tired right now and I don't know what to think."
"I'll be there at nine in the morning. I'll wait around for you, but if you don't show, I'll understand my story was too much for you to believe."
Chapter 6
Nicholas was up early. The night's dreams were filled with strange images of Earth, the baby, Claudia and him, all mixed together into jumble. He had no idea what it all meant, if it meant anything at all.
Regardless, he was up and moving too early to meet Claudia. After pacing around his room, attempting to find more information on Earth and continuing to be frustrated, he decided to go on to the entertainment center and see what he could find out from there. In the light of the morning, he was beginning to doubt if any of it was real.
"Maybe I've been sick and didn't even know it," Nicholas said to himself as he walked out the door. "It's all been a weird dream.
Arriving at the complex, Nicholas had to wait for a few minutes before he was able to enter a travel console. The previous night's maintenance had slowed people down and there was a line. When he finally got inside the portal, Nicholas walked straight to where he knew he would find Earth. And nothing was there. He checked all the other planets near where he found Earth before and nothing came up.
"I've been imagining things."
Nicholas decided to check every planet in the network. He began at one corner of the console and touched each one in front of him to see what it was. With each wrong planet he selected, panic began to rise in his chest. What's going on? This isn't possible, I know what I saw. Fifteen minutes later, Nicholas was upset and confused.
"Young man, if you aren't going to use the travel portal, please step aside and let the rest of us go ahead," a voice said from outside the entry way.
"What?" Nicholas said as he looked around. It took his eyes a moment to focus and then he realized there was a man standing there, tapping his foot angrily.
"I said, move out of the way so the rest of can go where we want to go. You can't monopolize the travel center."
"Oh, I'm sorry," Nicholas said as he shuffled out of the console. He walked with his head down, trying not to make eye contact with the line of people who had formed outside. They were all glaring at him.
Nicholas walked to a padded bench a short distance from the travel center and slumped down. He rested his head in his hands. Where did it go? It all seemed so real. It's not there. It's not there. It's not there.
"What's not there, Nicholas?" Claudia said, standing in front of him. Instead of being angry, she looked at him sadly, but with a touch of fear in her eyes.
"I got down here early to check out Earth since we couldn't find anything on the network last night and it's not there. I couldn't find it anywhere in the console. The planet just wasn't there," Nicholas said, a touch of anxiety reaching his voice.
"Okay, calm down and take a deep breath. We'll figure out what's going on. Just relax. I've never seen you like this. Tell me what happened slowly."
Nicholas quickly described his morning's visit to the travel console and how he had checked every planet in the system before he had to move out of the way.
"Are you feeling okay?"
"I'm feeling better now," Nicholas lied.
"Maybe there was a glitch in the system and you ended up going somewhere you weren't supposed to go. Maybe that's why they were doing maintenance on the system last night," Claudia said as she sat down beside him on the bench and rested a hand on his shoulder. "You feel hot to me. Have you been sick?"
"No, at least, well, I don't think so."
"I'll tell you what. The line is gone now. Let's go back into the travel console and look again together. If Earth isn't there, we'll check with the system administrator to see if you went somewhere you weren't supposed to go. Maybe we should go to the medical center as well," Claudia said. "If you went to a quarantined planet, it is possible you caught something that's making you sick. That could explain what you saw on your first visit and why you are so agitated now."
"You believe me, don't you?"
"Nicholas, I don't know what to believe right now. Whether you visited Earth or somewhere else, I don't know, but I believe you believe what you saw and that's enough for me…for now anyway. At least until we get to the bottom of this," Claudia said. "Let's see if Earth is there."
Claudia stood and put her hand on Nicholas's arm to urge him to his feet. Nicholas stood and took a deep breath.
"Lead the way," she said, motioning toward the nearest control unit.
Nicholas took her hand in his and headed directly for where he expected Earth to be.
It was just where he remembered it.
"What's wrong?"
"That's it. Earth. It's right where it should be," Nicholas said. "It wasn't here just a few minutes ago, but it's there now."
Claudia stepped to the hologram and brushed her fingers against it, activating the controls. It pulled up all the necessary travel information, exactly as they would see for any planet in the system. It showed the planet was safe to visit, both biologically and from a safety perspective.
"Maybe you just happened to enter the system while it was still resetting itself," Claudia suggested.
"It's just strange," Nicholas said. "It wasn't there a few minutes ago, and I was in here for 15 minutes. It doesn't make sense."
"What do you want to do, Nicholas?" Claudia asked.
"I want to visit the planet and see if I can learn more about what I saw. I want to learn who the baby is and see if I can understand more about the angels."
"I'm still a little concerned you're not feeling well…"
"Come with me, please…if you see anything about me that makes you nervous, you can bring us both back immediately and I will go to the medical center for a full examination. Okay?"
"Okay," she agreed, although Nicholas could tell she had reservations. "At least I know you weren't standing me up on purpose anyway. Let's go see this planet of yours."
"Do you want to select Earth?"
"I don't know where to go. You do it, but keep holding my hand. I like the feeling," she said with a smile.
Nicholas looked down and realized his hand was still in hers. It felt natural. He liked the feeling, too.
"All right, here we go."
 Chapter 7
"Where are we?" Claudia said, as she took in the planet.
"I'm not exactly sure."
"You're not sure?"
"Well, it's the same planet I visited before. Everything looks the same and the clothes are the same I've had on both visits," Nicholas said looking himself up and down and then looking at the robes Claudia wore. "But this isn't exactly where I came on either visit."
"You said you visited different places both times, right?"
"That's right. The first time was a little town calledNazareth and the second time, I think it was called Bethlehem. It was a little bit bigger than Nazareth. More structure and more people," Nicholas said. "It was pretty crowded, too. One of the shepherds said the king or someone like that ordered everyone to go to their home city for a census."
Nicholas turned around to survey their surroundings. They stood on a small hill. In the distance to his right, Nicholas could see a small town. To his left, Nicholas saw a group of travelers heading his direction. They were riding animals he didn't recognize. The group appeared to be heading for the town and they were going to come right past Nicholas and Claudia to get there.
"It's just a guess, but that sort of looks like the first place I visited. Nazareth," Nicholas said, pointing. "I'm guessing that group is heading there, too."
"What should we do? Should we hide? Are the people friendly?"
"Everyone has been friendly so far. No one has given me any problem. I think we should just wait on the travelers. We'll see if we can find anything out from them and maybe we can join them the rest of the way into the town."
"This really is a different type of traveling than we do most of the time, isn't it?"
Nicholas looked at Claudia for a moment and realized she was smiling and curious.
"You're not nervous?"
"Why should I be? We're here together. If we need to get away from someone, we can always trigger our return and we're out of here. No problems there if someone wants to hurt us," Claudia said, her concerns about his health, or sanity, seemed to have disappeared. "If you think we should wait, we'll wait."
It took the travelers another hour to make it to Nicholas and Claudia's position on the hill. That travel time told Nicholas that the town in the distance must be further away than they realized. He was glad they decided to wait. The sun was beginning to set on the strange planet and they weren't prepared for travel. They hadn't brought food or water for a hike.
"Hello travelers," one of the men from the caravan shouted to them as they approached. "Are you well?"
"I'm afraid we are in need of assistance," Nicholas replied, standing to greet the approaching group. "We are unprepared to be out here by ourselves and have no transport."
The traveling party numbered more than two dozen men and women in all. They were dressed differently than the men and women Nicholas saw on his earlier trips to Earth. They were wearing pants and capes made from silk and their belts and swords were heavily jeweled. There was no uniform look to their clothing or even their features, though, leading Nicholas to think that the traveling group came from different areas.
"Were you waylaid by highway men and robbers?"
"That is what happened, sir. Can you help me and my husband out? They took everything from us and left us with only our lives," Claudia answered, realizing the small lie might be more believable than the truth.
"Are you hurt?" the first man asked as he halted his animal and another man helped him dismount.
"No, we are unhurt, but they took everything from us and left us out here with no water or food to die," Claudia answered.
"Our servants will give you whatever you need. You will join us tomorrow as we make our way to Nazareth. For tonight, you are our guests and under our protection."
The traveling party dismounted and the men who were walking quickly set up tents and lit cooking fires. For a while, as the party set up camp for the night, they left Nicholas and Claudia alone.
"How did you come up with that story?" Nicholas asked.
"I remember reading a story once where robbers had left a young couple to die and it just popped into my head," Claudia explained. "These men seem to be nobles or wealthy anyway. You heard him say these men were their servants. Everyone seems to be armed with swords and daggers. I didn't want to make them mad or give them reason to doubt us. Saying we came from some highly advanced civilization on another planet would either take too long to explain or get us killed before we had a chance to transport back home."
"I like the way you think," Nicholas said with a smile.
"Something you haven't thought of. You probably need to refer to me as your wife for now. Or be my servant, too," Claudia said. "This seems like a male-dominated society, judging from what I see and what you told me about Mary and Joseph. I've studied cultures like this. If they think we aren't married, it might raise questions."
"I could call you my sister," Nicholas said with a smile.
"What would you do if one of them wanted to take me for his wife?"
"Well, I, ummm, I…okay, you're right. We'll go with husband and wife."
"Glad you see it my way."
After the camp was set up and food was ready, the men in charge of the group of travelers invited Nicholas and Claudia to eat with them.
"In my country, I am called Melchior," the first man who spoke to them said after they had eaten. "Have you heard of a child who lives in the town you see before you? We have heard stories of a king born here and we are coming to worship him."
"I have seen the child myself," Nicholas replied. "I was traveling for the census and saw the baby. I'm sure that is the child you speak of. I am bringing my wife to see the baby myself as she did not see him then."
"It is very good that we have met you then. You will join us as we go to visit the child."
"Tell me," another man asked. "Do you know King Herod?"
"I'm sorry, sir, I didn't get your name. I would not want to offer you insult."
"I am called Gaspar, from India," the man replied, his skin darker than his companions.
"It is my honor to meet you Gaspar. No, I do not know King Herod, except as the ruler Judea, of course," Nicholas replied, thanking the shepherds he heard speaking of the king. "I am not a great man like the king, or this great traveling company."
"It is well you do not know the king. We met with King Herod on our way here, but we have heard stories that he is jealous of the boy and feels threatened by the stories that he is a King. We do not want to tell the king of the boy's whereabouts for fear the king may kill him," a third man around the fire, said. "And I am Balthasar, from Arabia."
"Thank you for the honor of your table and your company," Nicholas said. "I am Nicholas and this is my wife Claudia. We are from…ummm, the town of Eridani and are traveling here to see my wife's family. The highway men set upon us. I protected my wife, but they took everything from us. We would not have lived to make it to the town, I fear."
"You are welcome to our hospitality. I do not know of your town, but none of us is from Judea," Balthasar said. "It is the way of my people to protect travelers. While in my home, even in these tents in the wilderness, you are safe as any member of my family."
"We are following the bright star you see in the sky above us. It is leading us onward. You have given us great hope that our quest is near its end and that the child is in the town we shall reach tomorrow," Melchior said. "Can you lead us to the child?"
"I saw the baby in Bethlehem, but I know of his parents as well. I believe I know where they live. I will do my best to bring you to him."
***
The next morning, the group rose with the sun and was quickly ready to move out. Balthasar insisted that Nicholas and Claudia ride one of his camels as his guests. Even with the transportation provided by the travelers, it was nearly noon before the travelers reachedNazareth.
While travelers were not uncommon around town, the appearance of a small company dressed so finely and without an extensive train of goods was unusual. Most camel caravans were large groups of traders and bringing goods from faraway lands.
"Nicholas, can you tell us where to find the child, the young king?" Melchior asked.
Nicholas looked around the small town. It was the same place he visited just a few days before, but he noticed several changes he didn't understand. It took him a moment to get his bearings and then he decided the most likely path to the home where he saw Mary and Joseph talking on his first visit.
"It is that home, just over there," Nicholas said, pointing.
"Let us see if the child and his parents are home," Gaspar said.
As the group moved out, heading toward the home, Claudia leaned forward from where she was riding behind Nicholas and whispered in his ear.
"I thought you said this baby was just born a couple days ago. Are you sure we are talking about the same child? They keep referring to it as a boy and as a child, not as a baby," she said quietly.
"There are a lot of things going on that I don't understand, but the angels I saw in the sky referred to the baby as a newborn King. And when Mary and Joseph were talking, they said the baby was given to them by their God and was to be their new King. All of that makes sense that this is the same child. The timing is what is throwing me off."
"Maybe time moves differently on this world than it does on our own," Claudia said.
"That would explain it, I guess. Nothing else seems to make any sense."
When the small caravan arrived at the home of Mary and Joseph, exactly where Nicholas stood days before listening to the conversation between the man and woman, Nicholas was amazed to see a small boy playing in front of the house under the watchful eye of his mother—Mary. He had seen her twice in last few days and recognized her instantly. The child had to be the baby he saw two days before.
The three kings and their servants immediately dismounted from their camels and approached the family. The identified themselves as kings from their own lands who learned of the child's birth and wanted to worship him. To Nicholas, Mary seemed uncomfortable with the attention for her son, but the young boy immediately stopped his playing and faced the three men. Nicholas saw a look in his eyes that belied the boy's age. He saw a depth that he didn't understand.
Entering the family's home, the three kings produced gifts for the boy and bowed down before him. Mary told them that her husband Joseph was away for a few days working for a local governor. As a carpenter, Joseph was much in demand.
Nicholas and Claudia stayed in the back and watched the three men address the boy and bow down before him. Nicholas wondered about the reverence in the men, but knew they had made a long pilgrimage to reach that very spot. In a quiet moment, Nicholas studied the boy. He looked for any evidence that the boy wasn't the baby he saw two days before. As Nicholas looked the boy up and down, he realized the boy was studying him back. Their eyes met and Nicholas froze. After a moment, the boy smiled and nodded his head. That gesture broke their momentary connection and then the boy returned his attention to his other guests.
"What is it?" Claudia asked.
"The boy and I just made eye contact and I…I, well, I just don't know. It was like nothing I have ever felt before. There is strength and depth in him that I have never seen before. He is a child, but he seemed old, too. No, not old. Ancient."
"I'm beginning to understand why this place, this world, has taken such a hold on you. I don't know what's going on here, but I am fascinated. I want to study it," Claudia said.
"I'm glad to learn I am not the only one," Nicholas said with a smile. "It's funny, though. Study isn't exactly the right word for me. I want to experience it. I've been feeling like something was missing in my life. But what I'm seeing here, on this planet, I feel whole. Like I have found my purpose."
"What is it?"
"Well, I'm not sure exactly," he said with a laugh. "Let's just say I feel like I am about to discover it and my purpose is tied to this place. I know that sounds strange, but it is the feeling I get when I see these people and talk to them."
"I was sort of hoping you felt that way because I'm here with you," Claudia said with a smile to let him know she was teasing…mostly anyway.
"Well I definitely like having you around. It's helping me think I'm not going crazy. I was sort of wondering there for a while. And this idea of you being my wife is growing on me, too."
"You know our people haven't made marriage contracts in years, right?"
"When I saw the love that Joseph and Mary have for each other and their joy at raising a family, it made me wonder if we haven't advanced so far we're hurting ourselves in the process."
Nicholas noticed the three Kings were saying their goodbyes to the mother and son they had come to visit. He and Claudia began retreating, too.
"Are you finished here? It seems like you traveled a long way for just a few hours," Claudia said as they approached.
"No, we will remain in the area for a while to worship the boy and to understand him. The mother told us of the vision she received from the angel. We wish to understand all of this," Gaspar said. "But we also realize we cannot impose ourselves on the young family. We have brought them gifts, as we would on a visit to any king, but this family is not royal. They do not have the ability to support our group and give us shelter. We will make arrangements for our people and our camels and will come back to visit. Even the fact that this boy is obviously a king, but the family is not royal is something we will strive to understand and will study before we leave."
"My friend Gaspar is trying to explain things that may not be explainable. We have all witnessed the power and knowledge in the boy called Jesus. That is enough for me. I am happy to stay here a while, though, and learn what I can learn and to enjoy being in his presence," Melchior said. "But what of you?"
"My wife's family is close by. We will continue our travels to visit with them," Nicholas explained. "Thank you for your hospitality and assistance. Without you, we would still be wandering in the wilderness or dead of thirst by now."
"It was our honor to assist you, Nicholas," Melchior said. "And thank you for your assistance in finding the boy."
Nicholas and Claudia gathered their robes together, and continued moving away from Bethlehem. The day was ending again and they were moving toward the setting sun. Nicholas and Claudia alternated looking back, as covertly as they could manage, to see if the three kings and their servants were watching them leave. They wanted to discuss everything that had happened. As soon as Nicholas and Claudia were confident they were out of sight, they triggered their return buttons and disappeared from Earth.
Both travelers blinked at the austerity of their surroundings as they stepped out of the entertainment complex and onto the streets of their how world Eridani. They were holding hands as they walked and it seemed perfectly natural.