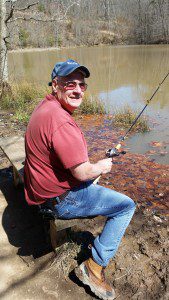 One of my earliest memories is fishing with my dad on a river. It was probably a creek, really. At this point, 40 years after the fact, I have no idea where we were or any more details about the day. Just a memory of sitting on the edge of a stream and drowning bait. I have no idea if we caught anything or if we kept anything. But that's not the point. I remember doing it.
I've been been able to take my daughters fishing many times over the years. We aren't avid anglers, desperate to fish for hours any chance we get, but generally they've been fishing a couple times a year since they were three or four years old. And they remember it. Of course, now that they are in their early teens, they might deny it, but that has more to do with being teenagers than anything else. As an added bonus, most of the times they've been fishing, they've also gone with their grandfather. My dad. I think that is a great example of life coming full-circle.
I recently read an article titled "The Science of Why You Should Spend Your Money on Experiences, Not Things". The short version is when we buy things, we might be happy about them for a short time, but then we get used to whatever we bought and the happiness goes away. That leads to the need to buy more things to be happy again. It is a continuous cycle.
When we experience something, it becomes part of who we are. Even years later, we tell stories that start with phrases like "Well, the time I was in Paris…" or "There was this time I was fishing with my dad…" Occasionally they start with "Hey y'all, watch this…" but that's a different discussion.
The great thing about experiences is they don't have to cost a lot of money. Most of the time, it just means taking the time and doing "something". They do take time and a little thought, however. Going fishing with your kids can be a fairly inexpensive day, for example. A couple fishing rods, some bait and your fishing license is all you need. (Kids under 15 don't need a license.) You can probably pick up the rods at a yard sale if you need one. And then you just need a body of water with (hopefully) some fish in it.
The conclusion of the article was that doing things and building experiences is a much better use of our time and money than buying things. We build memories and make ourselves happier in the long run.
Considering that today is Tax Day, maybe we all need to take a day and go fishing. But don't forget your fishing license.
If I could just remember where I put it….