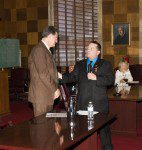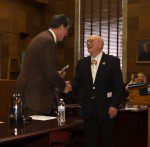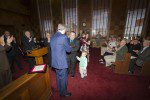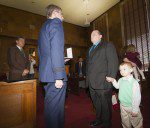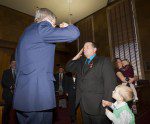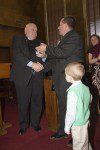 Yesterday, I attended a ceremony to award a US Army Bronze Star with "V" device. The V stands for Valor and means the award was given for Acts of Heroism, specifically in combat. This award was a little different though. It was James McCormick's third Bronze Star, but was given for something he did in Iraq in 2004.
James was surrounded by friends and family for the ceremony and his son held his hand as Brigadier General David Buckalew, Director, Joint Staff, WV National Guard pinned on the medal. I watched his face during the presentation and I could tell discussing that day in Iraq brought back memories of day when he used his gun truck to defend a supply convoy against a violent attack from the enemy.
James graduated from Winfield High School in 1986 and immediately joined the Army as a Cavalry Scout for the 24th Infantry Division. He served in Desert Storm in 1991 where he earned his first Bronze Star. After two enlistments, James left the Army to earn his Bachelors Degree from West Virginia State College (now University) and later returned to the Army where he received a direct commission as a Second Lieutenant. In 2004, he deployed to Iraq for Operation Iraqi Freedom. James ended up being recruited to a new company called the 518th Combat Gun Truck Company, where he served as the Executive Officer. Their job was protecting convoys from ambush attacks. Some of the worst fighting of the early part of the war was on the roads in and around Baghdad International Airport and the 518th never lost a vehicle to the enemy. His actions earned him two Bronze Stars with V Device and three purple hearts.
The 518th took the name The Regulators, after a deputized group of men in the Old West who fought in the Lincoln County war, and spawned the likes of Billy the Kid. They created a new doctrine of convoy support, based on what their predecessors in Vietnam created.
When James left Iraq in 2005, he hadn't received the final Bronze Star, but he said they told him "Don't worry about it. We'll take care of it." Better late than never, the army got his fouled paperwork straightened out and sent James the award…or they were going to until others learned that his Bronze Star with "V" device was coming in the mail. James' friends decided a true hero needed to be honored for his service.
 US Senator Joe Manchin, Maj. Gen. Allen E. Tackett (Ret.) and Hershel "Woody" Williams, the only surviving West Virginia Medal of Honor recipient and the last surviving MOH recipient from Iwo Jima all spoke about James' honor and bravery. Maj. Gen. James A. Hoyer was unable to attend, but sent additional recognition with Buckalew.
The Bronze Star with V Device citation reads:
For heroism in ground operations against a hostile force. Second Lieutenant McCormick distinguished himself by exceptionally valorous actions on 7 April 2004 while performing dual assignments as the Convoy Security Commander and Gunner providing security for the 1487 Transportation Company during Operation Iraqi Freedom II. Second Lieutenant McCormick quickly maneuvered his M99 Gun Truck into position providing protection while engaging and destroying the enemy. Second Lieutenant McCormick suffered an injury to his left hand but continued to fight and protect the convoy until the entire element was remove from the kill-zone. His commitment to duty is in keeping with the highest standards of military traditions and reflects distinct credit upon himself, the Coalition Force Land Component Command and the United States Army. 
James retired from the Army as a Captain and is now the director of the WV Warrior Farmers Project, working to help veterans become farmers, support themselves and quite likely find some of the peace many of them lost on the battlefield. James arrived at the courthouse for the presentation ceremony wearing bib overalls and carrying his suit. He had just come from the farm where they were working with honey bees he is helping to teach veterans to raise.
I'm proud to know men like James McCormick and Woody Williams. Their days of fighting are long behind both of them, but they both still fight for veterans and their country.
Maybe this is the harder fight.