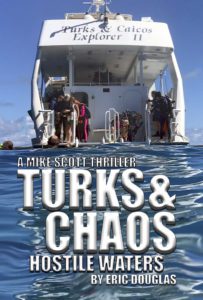 The latest thriller novella the Mike Scott series, Turks and Chaos: Hostile Waters, is now available across all ebook formats at a special introductory price, author Eric Douglas announced.
The ninth installment in the Mike Scott series is a thriller novella.
"I wanted to challenge myself with this story a bit. No bringing in outside help or equipment. This story is entirely set on board a liveaboard dive boat," Douglas said. "Most of the Mike Scott stories feature the location as an additional character, but this was different. It was confining, but also liberating at the same time. I had to focus on characters and limit them to what was onboard."
Turks and Chaos: Hostile Waters
Armed gunmen board a liveaboard dive boat near Turks and Caicos in this sea story/action thriller. News photographer Mike Scott is on a dive vacation and gets taken hostage when the theft doesn't go as planned. When the identity of the head pirate is exposed, he declares that all the passengers will die when they reach their destination. It's up to Mike, the passengers and crew to overcome the pirates and save their own lives. It doesn't help matters that there is a mole on board feeding the pirates information and they are heading right into a storm. Now they must rebel against the pirates and take the boat back before time runs out…
Diving fans will also recognize some characters in the book. Douglas based this story on ScubaRadio's 20th Anniversary Scuba Cruise. Greg Holt from ScubaRadio is a major character in the story as well as several of the show regulars. Pup Morse, the Scuba Cowboy entertains the worried passengers and his daughter Tiff takes out a bad guy (no spoilers!). There is even a reference or two to Mermaid Rum, a ScubaRadio favorite.
Of course, the entire story is set on board the Explorer Ventures Turks and Caicos Explorer, featuring the real crew. (None of the Explorer Ventures boats have ever been boarded by pirates in real life.)
"One fun thing about this story is I plan to use a character or two in the next full-length Mike Scott novel, planned for the summer of 2018. As with all my stories, you can read one without the other, but there will be a connection to a story line in Turks and Chaos to the next adventure," Douglas said.
P.S. Don't forget, the ebook of the first story in the Mike Scott series, Cayman Cowboys, is free to download from all major ebook retailers.
Early reviews
"Fans of Clive Cussler will enjoy this brand-new novella in the Mike Scott thriller series from Eric Douglas." Greg Holt, host of the talk radio show ScubaRadio.
"…a great "Murder on the Orient Express" set up going, where everyone is captive and most everyone is suspect. It gives the story a nice whodunit quality…" Suzanne Garrett