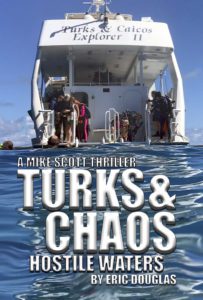 Happy New Year my friends!
As we bring 2017 to a close, all I can say is "whew. I'm glad that's over."
Just kidding. This year has come with some challenges, but every year is what you make of it and this was a productive one. I released four books this year.
The year began with Heart Survivor: Recovery After Heart Surgery. This book continues to be popular as, unfortunately, new people are facing this diagnosis every day.
In the summer, The 3rd Key: Sharks in the Water took everyone on a trip to the Florida Keys. This story packed a lot of action and excitement into just a couple days.
In November, the biography Dive-abled: The Leo Morales Story told the inspiring story of a young man who used the power of the ocean to overcome the loss of a leg to cancer, and to set some diving records along the way.
And for Christmas, the latest Mike Scott thriller novella hit the streets: Turks and Chaos: Hostile Waters. This is the ninth installment in the Mike Scott series. Set entirely on a liveaboard dive boat, it's a great way to warm up the winter months!
Thank you for coming along for the ride and I hope you got a chance to escape from your day-to-day with Mike Scott. Remember, reviews are the life-blood of an author. If you've read any of my books, please leave a review and let others know what you thought.
I am looking forward to an exciting 2018.
Happy New Year!
Eric