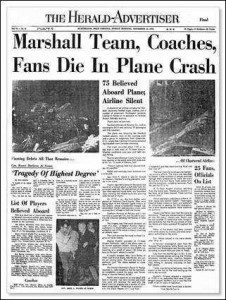 Forty two years ago today, 75 Marshall University football players, coaches and supporters died in a plane crash on the way home from a game against East Carolina University (Marshall lost 17-14). The crash and the aftermath were the subject of the movie "We are…Marshall". For more information, visit this link.
I was three-years-old when it happened. I didn't have a connection to anyone on the plane and didn't know much about it until my freshman year at Marshall in the fall of 1985. On campus, it was a different story. The story of the crash permeated everything. The Memorial Student Center was the focus of the campus and the Memorial Student Center Fountain was one of the most picturesque sites on campus. One of the first assignments in my first photography class was to take night photographs. Of course, I headed right for the fountain.
Variously, you hear the phrases Always Remember and Never Forget in reference to the crash and those we lost that day. The crash didn't just traumatize the school, but the entire city of Huntington. That isn't to say that we dwell on the past or feel somehow victimized by the tragedy. I think the feeling is exactly the opposite. We will never forget the friends and families we lost that day, but at the same time we take our strength and perseverance from that event.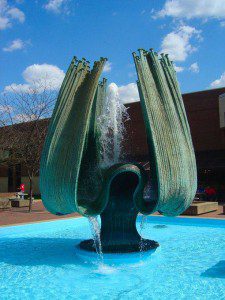 The education I received at Marshall put me on the path to a career that I could only dream of growing up. I've been on six of the seven continents (still working on Antarctica) and have friends on each of them. I've dived and hiked and explored. I've photographed and written about them. Some of the most intense friendships of my life are from my days at Marshall. I am honored to still be in touch with many of them. Of course, I've lost friends from those days, too. I was a senior at Marshall when one of my best friends, Mike Burnsworth (a friend since high school), died of cancer. I remember him in each of my novels.
I think my time at Marshall taught me something even more important than how to use a camera or string words together. It taught me how to learn, how to wonder and to never give up. I know if I keep working, I will reach my goals. Maybe not always on my own time table, but it will happen.
The tragedy of the plane crash forged in Marshall a special identity. It made the Marshall community even more determined to succeed and to thrive. We will always remember those who died that day and we learned to never take a day for granted.
May God bless the families of the men and women we lost that day.
I'm proud to be a son of Marshall.
Go Herd!.