Diving friends heading to the DEMA Show 2016 in Las Vegas, Nevada November 16-19. Come see me and check out the new novella Oil and Water.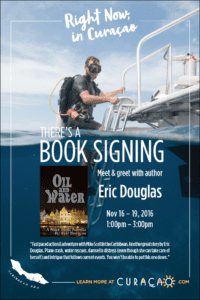 Every day from 1 to 3 pm I'll be in the Curacao aisle signing copies of Oil and Water. Find me at booth #6125. Look for this poster!
In the morning before the show, I'll be hanging out with the crew from ScubaRadio for the morning warmup at the show entrance. Get there early. There will be all sorts of giveaways including dive trips and equipment.
I'll be giving away copies of Oil and Water, Lyin' Fish and maybe even a copy of Return to Cayman: Paradise Held Hostage, or two. I'll even have a few download certificates for the Oil and Water audiobook. More information on how to win those will be available during the show.
The rest of the time, I'll be on the show floor somewhere. You know how to track me down.
Listen to me chatting with Greg Holt about the DEMA Show on ScubaRadio.