Last month my mom moved out of the house she lived in for 49 years. That meant I had to clean out the last of the "stuff" I left there over the years including a rather large box from my days at Marshall. Sorting through it, I discovered my clip book from my days on The Parthenon.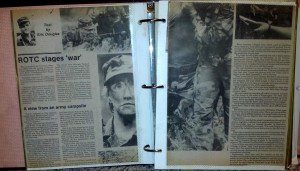 In the School of Journalism, we were required to work on The Parthenon (the student newspaper) for at least one semester. We had to cut out our stories and keep them in a binder for a grade. I really don't remember how it all came about, but for one story I went out in the field with the ROTC on weekend maneuvers. It ended up running as a two-page spread (called a "double truck") in the paper. The next semester, I was covering the medical school and a group of med students decided to go to a working coal mine and see where some of their potential patients worked. I went along and that turned into another two-page spread. For someone who didn't originally plan to specialize in journalism, I decided I liked telling "bigger" stories.
In today's world, journalism is often about sound bites and telling stories as quickly as possible. It is much rarer to get the opportunity to tell big stories. (Every so often, you see an exception. Doug Imbrogno's feature series Elizabeth and George is a great example.)  On the other hand, blogs and specialized websites have rekindled an interest in "long form journalism".  The beauty of telling these stories online is you can integrate all sorts of media into the process. You can interweave video, still images, audio clips and text into one package that offers a much deeper experience than print alone. The West Virginia Voices of War project is another example of this.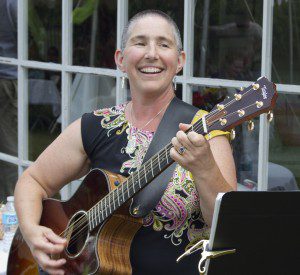 In early August, Jean Hanna Davis offered me tremendous access to a period in her life when most people would insist on privacy. In the spring she was diagnosed with cancer for the second time. After a second mastectomy and radiation, she began chemotherapy, a month shy of 10 years after the first time. I've sat with her through the first three chemo sessions (out of six scheduled), recording her thoughts on the process and plan to attend as many as I can. Jean is a fighter. She is not about to take this lying down. Most of her friends refer to her as Wonder Woman for her attitude when it comes to cancer. She wants to talk about cancer because she hopes her experiences will help someone going through cancer for the first time will learn from what she has been through.
So many of us complain and whine (myself included) about things that have little or no consequence. These are often referred to as first-world problems. And then I run across someone who isn't whining. Or complaining. Just fighting. Like Jean.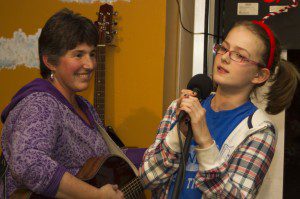 I would guess Jean would say that when you don't have a choice, it makes you tough and you fight. The alternative isn't an alternative at all. When your family and friends depend on you and you have lots of life left to live, you fight. It is the medical equivalent of being backed into a corner.
I will be posting a story to my website each Wednesday in October for Breast Cancer Awareness Month about Jean and what she is going through and her thoughts on the process. I hope you follow along. Please feel free to include your own stories in the comments below each post. That's the beauty of today's long-form journalism–it's interactive.
The plan:
Follow this link to find out more about Breast Cancer Awareness Month. It is a clearing house of information with links and connections to many of the major players in the fight against breast cancer.
This series of blogs is dedicated to Jean and her family, along with all the women who have fought breast cancer—patients and families alike..