Note: The interviews and the columns in this series became the basis for a book: Keep on, Keepin' on. It was published last spring and is available through Amazon.
Living through a bout with breast cancer, much less a return of the disease, can feel like riding out a hurricane. For Jean Hanna Davis, going through breast cancer for the second time in 10 years isn't something to keep quiet about. She doesn't seek attention, but she knows people want to know what's going on with her, and they care about her; it makes sense for her to talk about it publicly.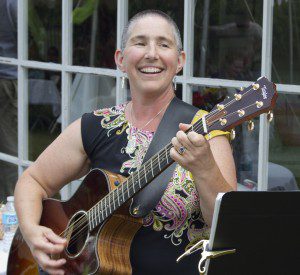 "The big difference between this time and the last time, pre-Facebook and post-Facebook, you don't have to work very hard to get that sort of encouragement. I need that feedback."
The following is a series of Facebook posts when Jean was diagnosed this year.
May 1: Bone scan & sternum xrays over….waiting for results!
May 3: The bone scan showed "activity" at the sternum…could be that pesky costochondritis healing & scaring everyone, but no way to tell until the next test is done. Pet scan scheduled for Thursday.
May 9: Hospitals should be fined for making a person fast all day, then putting the cafeteria just inside the main doors. Seriously. PET scan done — results sometime soon. Feeling good!
May 13: Have I mentioned lately that cancer really IS the gift that keeps on giving? PET scan showed "hyper-metabolic activity" on sternum. Likely treatment is radiation (don't know how many) & a bone stabilizer – like Zometa – once a month forever. Probably no chemo. Will let you know as I have more info.
May 15: Looking for the gifts….as I was grocery shopping today, having a really hard time holding it together & getting ready to walk out, a kid walked up to me & said he was an enemy droid. He went on to describe the droid and the gun attached to his arm. When I thanked him for keeping us safe, he told me that he was from the dark side and was evil. I told him he could change & we could re-program him – like when Picard was ALMOST but not quite assimilated by the Borg….he said he'd think about it. Cancer Volume 2, Gift 1.
May 20: Cancer round 2, gift 2 – being reminded of the community of people, near & far, who seem to love me…even a little. Thank you for all of your kind words and prayers for healing. Will post an update after my appointment with the oncologist tomorrow.
May 22: In a nutshell — Cancer in sternum appears to measure 8.5 cc's – that's about the size of my index finger (although the cancer isn't shaped like that!). Oncologist wants to biopsy to make sure it's mets & not a new flavor of cancer…As always, thank you for your prayers & support & cards….I am surrounded by a remarkable community of beings, both near & far.
May 23: There. That one is better! Very "sacred heart-y'" don'tcha think? See the glow? The lit up sternum is the cancer. The second pic is a slice from the ct. I am on my back. The glowing bit above the blob that is my heart is the cancer. Rad onc thinks it may be recurrence…NOT mets…due to location. But no way to know for sure. He plans for 5 radiations starting ASAP. Biopsy tomorrow. Results Tues or Wed. Will check in after I get home. Love you all!
Facing a life-threatening illness and enduring treatment that makes you feel worse than you ever could have possibly imagined, while still trying to maintain some normalcy in your life: work, family, entertainment isn't for the faint of heart. It takes a lot of support to keep the energy up and keep moving forward. Any cancer patient will tell you that.
"When the cancer came back in the spring of this year, I really looked hard to find the gifts. It is hard to find the gifts some days. But one of the gifts is to get in touch with people. You don't see the private messages I get. Every day there are at least five messages. 'Do you need anything? I'm passing through. What can I get you?' I've seen more people and talked to people more in the last five months than I have talked to in the last 20 years."
The point of talking about cancer online and publicly isn't about gaining attention, although anyone who has struggled with something will tell you they need that support; it is to reach out to others and help them through their own struggle.
"I think I've always been a performer. It is a genetic abnormality to be the person who wants to be in front of people and make them feel good. You give me an audience and I animate. The last time I did this (chemotherapy), I got to the end of the treatment and I thought 'There is something else I am supposed to do. Public speaking or something as a side gig.' I am helping with a fundraiser in October that is going to benefit Komen. I've thought about ways to work music in and be the presenter. I've done that a time or two."
For Jean's mother, Arlene, it's not surprising Jean is using her fight with cancer to support others.
Arlene: "As she gets older, I can see more strength in her. As a child, she was always the first one with the confidence and the strength. And positiveness. She has always brought that out in other people. People see her and talk to her and say, 'I can do that.' She brings that out in other people."
Jean knows she might just inspire or encourage other cancer patients, or people with their own struggles, to "Keep on, keeping on."
This is the second of a series of blogs for Breast Cancer Awareness Month. Jean Hanna Davis has given me access to each of her chemotherapy treatments while she works to rid her body of cancer for a second time.
I'm not sick, I just have cancer will be the topic for the next post. The other topics will be:
Previous posts are:
You can see the entire series on the Breast Cancer Page in the non-fiction section of my website.
This series is dedicated to Jean and her family, along with all the women who have fought breast cancer—patients and families alike. Follow this link to find out more about Breast Cancer Awareness Month. It is a clearing house of information with links and connections to many of the major players in the fight against breast cancer..